As your nonprofit got its start and began to grow, you probably developed spreadsheet after spreadsheet to store information about your supporters' contact information, donation amounts, date of giving, campaigns supported, and all sorts of other information.
When these spreadsheets got overwhelming, you probably invested in a small CRM solution.
What is a nonprofit CRM?
CRM stands for a constituent relationship manager. A nonprofit CRM is specifically designed to organize, maintain, and manage information about your nonprofit supporters. This information will help you better reach these supporters for more effective fundraising.

The majority of nonprofits do not conduct the proper amount of research to adequately choose a solution that will meet their needs and help them grow, especially not the first time. Not investing time for research results in ineffective financial investments in software that lacks necessary functionality. So the nonprofit quickly outgrows their new solution or decides to invest in better software.
Don't let that happen to your nonprofit!
We've compiled this guide to kickstart the research process for organizations like yours. It's our goal to help you choose a nonprofit CRM that will fulfill the needs of your organization and support growth.
We'll cover a variety of topics, all of which are important for choosing the best solution. You can use the navigation below to jump to the section that intrigues you the most or read through the whole guide. The choice is yours!
Remember that the solution you choose should also help guide your supporters through their journey of building a relationship with your organization. Choosing the best nonprofit CRM is the key to unlocking that journey.

1. Benefits of Investing in a Nonprofit CRM
With the right solution, your CRM can track everything about each individual donor's journey with your nonprofit, allowing you to personalize their experience. You can also track the success of your organization's campaigns to better tweak and boost your fundraising success.
When your nonprofit invests in an all-in-one solution, you gain even more functionality from your CRM and can track more and more of your strategy's success.
Let's dive a little deeper into the individual donor journey and nonprofit campaign tracking.

Donor Journey
Your CRM will store individual profiles for each of your donors, providing information about each engagement opportunity offered through your organization that donors have taken advantage of.
Within the supporter profile, your organization can store engagement metrics such as:
Frequency of giving
Gift amounts
Participation in advocacy campaigns
Website engagement metrics
With all of this information at the tips of your fingers, your nonprofit can better personalize the experience your donors have with your organization.
For instance, if one donor frequently attends your events and purchases merchandise, you can reach out to them with early access to purchase the special edition t-shirt for your upcoming fundraising festival.
It's almost impossible (and definitely inefficient) to try to reach out to your supporters one-by-one based on this information. That's why CRM solutions include segmented lists to reach out to donors with commonalities. The result is a more personalized message sent in the most efficient manner.
The best solutions take this a step further with donor portals. Self-service portals give donors control over their own engagement. They can choose which lists they want to be a part of, taking the guesswork out of your nonprofit's outreach strategy.
The individual statistics about your donors can be averaged for a better understanding of your donors as a whole. For instance, you can calculate the lifetime value of your donors and better understand your organization's retention rate.

Campaign Tracking
A great nonprofit CRM will store information about more than just your donors. It will help you track your fundraising campaigns as well.
Because your CRM tracks the individual interactions with your campaigns, those interactions can be compiled to give larger insights into the campaign itself.
For example, when your CRM software enables your organization to include a tracking URL on marketing materials, you can easily gather data about where individuals are finding your marketing collateral and clicking through to your donation page. This data provides information about which marketing platforms are the most successful with donors.
Organize your fundraising efforts by campaigns and sub-campaigns (those related to the overarching campaign). This allows you to see how your related efforts interconnect and helps you measure specific aspects of success.
Internal reports on these campaigns and sub-campaigns allow for strategic analysis for your organization to determine the next best steps for your nonprofit.

2. Nonprofit CRM Key Features to Look For
Of course, to obtain the benefits discussed in the last section, your CRM should have specific features.
Because your CRM is a centralized database that stores information about all interactions with your nonprofit, a complete solution that can handle the processes behind these interactions as well as store the data from them will help streamline nonprofit operations.
An all-in-one solution will fill your organization's need for CRM software in addition to fundraising, payment processing, communication, major gift management, and more.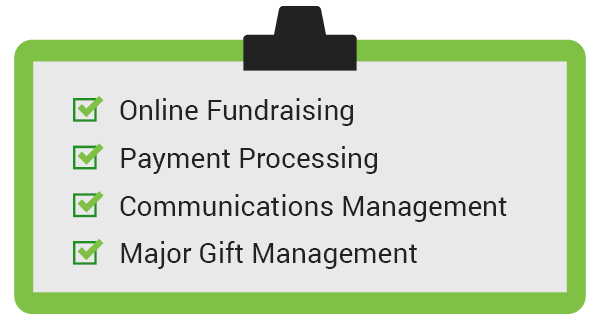 When these features are an integrated part of your CRM solution, you can streamline data between features, saving your nonprofit staff time and energy.
Let's dive a little deeper into these key nonprofit CRM features.

Online Fundraising
With online fundraising features, the data collected as you raise money is streamlined directly into your internal records and reports. This takes out the manual transfer of information between separate fundraising and CRM software solutions.
When you choose a CRM software solution with online fundraising forms, be sure to make sure these forms also have full functionality. You never want to sacrifice the quality of your nonprofit's online fundraising pages. Therefore, look for forms that offer:
One-click giving. Make it simple for returning donors to give again and again without filling out the same tedious information for each gift.
Responsive design. With 57% of online traffic coming from smartphones and tablets, it's imperative your donation page look good on all devices with responsive design.
Customizable branding. Your online fundraising page should reflect the brand of your organization. Be sure you can update the fonts, colors, and images to match your site.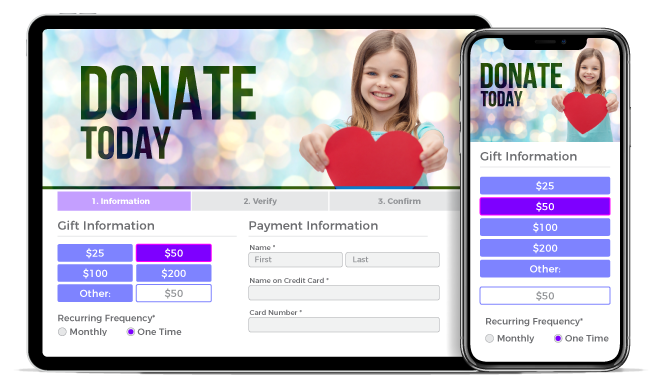 Donation forms are the bread and butter of any fundraising campaign. When they're built into your nonprofit CRM solution, you save time and energy through automated data collection. Every transaction is immediately collected and used to update donor profiles based on provided data.
Take this idea a step further by looking for features related to other types of fundraising, such as peer-to-peer fundraising pages and event registration pages.

Payment Processing
Once a donor gives on one of your online fundraising pages, do you really want to process the payments externally? When your CRM features a built-in payment processor, you can ensure successful and secure payment processing and information updates.
An effective built-in payment processor should enable your organization to:
Automatically update credit card information. If donors change their credit cards, you can automatically update their profile. The CRM should recognize the same donor giving with a new card, enabling you to add that card to their existing records.
Securely process donations. PCI-compliant and PCI-certified are the two terms to look out for when it comes to security. Of the two, look for a provider with a PCI-certification. This means the provider has been evaluated and tested by a third party to ensure fortitude. In comparison, PCI-compliant testing is more frequently completed in-house.
Significantly reduce costs. A built-in processor can significantly reduce the cost of processing donations for your nonprofit. It builds out internal systems rather than relying on external sources for processing.
Payment processing takes online donations in your CRM one step further. Plus, when this billing data is streamlined into the CRM, you have a complete 360-degree view of all of your financial information for accounting purposes.

Communications Management
Communicating and getting the word out about your organization's fundraising campaigns, stewardship events, and mission is vital to achieving your goals. After all, if you can't get the word out, how can others experience the opportunities you offer?
We mentioned before that your organization can segment your supporters into groups based on their specified commonalities. Your CRM should make it easy to communicate directly with these segments of donors through various channels.
When you're looking at a new nonprofit CRM platform, look for tools that allow your organization to leverage
Email campaigns. Be sure you can personalize the emails by automatically populating the name of your supporter in the header based on their profile in the CRM. You should also ensure software offers email customization to represent your organization's brand.
Direct mail marketing. Direct mail isn't dead! Actually, a combination of both direct mail and digital strategies have the best outcome for most nonprofits' communication strategies. This is because, according to The Fundraising Authority, people receive the direct mail, then look up the nonprofit online, and ultimately give via the website.
Automated messages. Make sure you're able to immediately thank donors for their contributions by sending a quick confirmation email right after they give.
Instead of transferring contacts and donor segments to a different software solution for effective communication, an integrated solution with your nonprofit's CRM can pull contact information directly from the profiles of supporters.
Plus, if you have self-service portals where donors can independently update their information, you'll ensure you have the right contact information within your systems.

Major Gift Management
Have you ever heard of the Pareto principle? This is the principle that states that 80% of effects come from 20% of the causes. Nonprofits often find that this principle also applies to their fundraising: 80% of funding comes from 20% of donors. How can this be? The answer: major gifts.
With so much riding on the major gifts your nonprofit receives, you should expect your CRM to offer a feature that makes it easy to track these gifts from beginning to end. Be sure your CRM allows your nonprofit to track every step of the engagement:

Beginning of the engagement. Very few major gifts are given by the anonymous stranger. They usually start out as your everyday individuals providing a small donation to a cause they believe in.
Prospect research. Your CRM should partner with a prospect research database. This will help you identify relationship opportunities with supporters who have the potential of becoming major donors.
Cultivation. Once you've discovered these opportunities, start intentionally stewarding potential major donors. The cultivation phase is a direct attempt to build and steward a relationship with a major prospect.
The gift. Record mid-tier and major gifts in your CRM under the donors' profiles. Be sure you thank them and determine next best steps to take to further each of these relationships.
As your nonprofit looks for a solution, be sure to look for all of these important nonprofit CRM features. While simple solutions with less functionality may appear less expensive, the truth is that an all-in-one solution can cut prices on CRM software immensely.

3. Investment Costs of a Nonprofit CRM
The cost of multiple solutions adds up, from purchase to implementation to training. Try conducting a technology audit to see just how much of your current tech can be replaced by a single comprehensive solution, and how much it can save your organization.
Generally, nonprofits think primarily about the short-term investment that their organization makes when paying for a new CRM solution. However, when you make the investment, you probably want to hold onto the software for a while, right? So why wouldn't you consider the long-term costs and impacts as well?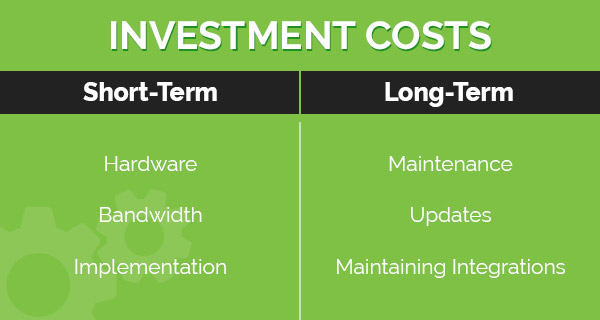 While it's easy to think about the immediate cost of hardware, bandwidth and implementation costs for new software, be sure you consider the whole picture. In the future, you'll need to plan for effectively managing the maintenance of the technology, future updates, and the integrations that will help you achieve your goals.
Another consideration that you should keep in mind is training costs. Complicated solutions may require additional training and consultation costs. However, these short-term expenses are worth it in the long-term if you're better able to maximize the use of your solution.
The combination of short-term and long-term investments allow you to calculate the total cost of ownership for software. Ultimately, it is this total cost that you should aim to drive down. How? By investing in a more comprehensive solution.
CRM software for nonprofits with more functionality cuts back on the amount that you would've otherwise spent to fill those tech gaps with new solutions.
Think about it: If your nonprofit CRM offers advocacy, fundraising, communication, and other software as a part of a single, comprehensive solution, you're ahead of the game when it comes to investment costs. You already have the necessary tools to start campaigns, your staff doesn't need any additional training for more software, and maintenance costs are bundled into one single package.
Plus, when you invest in one single solution, you save time that would have otherwise been spent transferring information between systems to keep all of your data up-to-date. Sometimes, this time is just as valuable as the money you saved.

4. Considerations Before Choosing a Nonprofit CRM
While you'll see all sorts of lists of the various nonprofit CRM features you need in your future software, be sure you take your nonprofit's specific needs into account while thinking about necessary features.
Every nonprofit is different. One of the main considerations you should take into account are your nonprofit's specific needs and how you plan to fill those needs.
This means you'll need to make some internal considerations before making your final decision. Therefore, you'll need to take the following steps:

Conduct your tech audit. This audit should define the tech you already have, the total cost of ownership, and the functionality. It will also help you identify any gaps or holes in your tech strategy that you should fill with a new solution. Consider how new software will help you replace some existing tech to reduce cost while filling gaps in functionality.
Prioritize your needs. Using your tech audit for guidance, consider the most pressing needs that you're trying to fill by investing in a new nonprofit CRM. Make a list of these needs and the features that will help fill those needs. Make sure to keep this list in mind when looking at new solutions.
Start your research. Talk to other nonprofits in your realm to see what CRM they use, look up referral pages from other tech companies you trust, and launch into deeper research about those solutions. Make sure to look at the clientele list of the CRM solutions you research. Are they similar in size to yours? Similar in mission?
Ask for a demo. Use your list from step 2 to make sure you don't get distracted by the attractive bells and whistles in your demo with providers. Ask lots of questions. Don't be afraid to ask about price either! Make sure your questions are all answered before making a long-term investment.
Make your decision. After you've considered your needs, done your research, and sampled a software solution through a demo, you'll be ready to make your final choice.
When you look for a full-functioning, comprehensive solution, which is what we recommend for all nonprofits, be sure to ask about the history of the software itself.
CRM software for nonprofit organizations that was built from scratch to fulfill all the needs of organizations will be better suited to serve your nonprofit than a solution that used to serve a single function, then expanded. For instance, you may find solutions that started as an advocacy software solution, then expanded, or as a fundraising solution with a CRM expansion later on.
With providers that set out to serve all of the needs of nonprofits or small businesses alike right off the bat, you can rest assured they'll have the tools you need in an all-in-one platform.
Nonprofit CRM software acts as a centralized database to store important information about your organization and your donors. Finding a solution that is built out into a complete all-in-one solution, like CharityEngine, will ensure your organization has all of the tools it needs at a fraction of the cost.

Ready to Test Drive CharityEngine Software? Click here to Start your 10 Day Free Trial today!