Nonprofit Payment Processing
Secure, Fast Payment Processing for Nonprofits
Our in-house, PCI-certified nonprofit payment processing technology with patent-pending fraud prevention can quickly process more than 1,000 transactions per second.  
Competitive & Secure
Enterprise Billing Engine
CharityEngine's large-scale, secure nonprofit payment processing and enterprise billing engine allows your organization to collect online donations easily and ensures a smooth giving experience for your donors.
Let your donors give how they want—PayPal, Google Pay, Apple Pay, ACH—as well as from where they want. Our nonprofit software accepts multi-currency transactions as well as payments from North and South America, Europe, Africa, Asia, and anywhere else your donors live and give.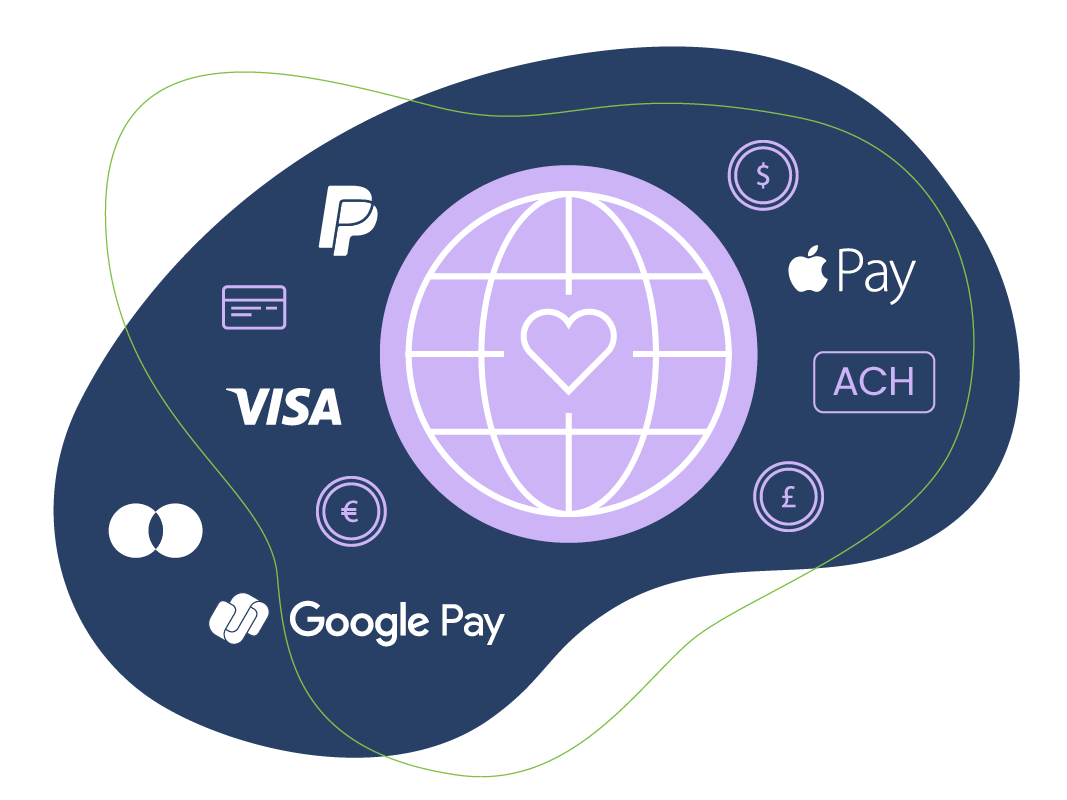 Easy Payment Options
Integrated Nonprofit Billing Options
Let's make it easy for donors to support your nonprofit! With online bill payment and billing software that gives you supreme flexibility, you can accept donations, process payments, and analyze collected revenue with just a few clicks.
Online Bill Payments
Our easy-to-use, responsive online app lets donors give on-the-go. We also make it easy for donors to change their form of payment and save their information.
Flexible Billing Software
Maximize revenue collection and donor retention with a subscription billing model and automated workflows. Sync chargebacks and returns for maximum collection.
PCI-Certified, SOC 2-Certified Payment Processing
These certifications mean that CharityEngine's nonprofit payment processing software is regularly audited and held to the highest security standards.
Industry-Leading Capabilities
In-House ACH Processing for Nonprofits
CharityEngine has in-house banking capabilities, meaning that all bank transfers like checks can be processed without a middleman or gateway. What does this mean for clients?

Better Customer Service
When you have a question, we don't need to run it up the flagpole...we are the flagpole. Your questions will be answered quickly by our professional customer service team.

Better Security
Both data and money will take direct paths from donors to your nonprofit to your organization's bank account. Fewer touches mean less vulnerability and more protection.

Better Rates
With fewer organizations moving money through the system, your nonprofit will pay fewer fees. In-house processing means lower rates for clients. 
CharityEngine CEO Phil Schmitz
Mobile Pay
Nonprofit Fundraising on the Go
Use a mobile pay app to process donations onsite quickly and securely. You can enroll donors on the spot and even send receipts from the app. When you're ready to up your game, add a credit card swiper that's integrated with the app!
Payment Processing for Nonprofits
Frequently Asked Questions
Many nonprofits focus on increasing donations and don't pay attention to what happens after the donation is made. It's a complex issue made easier if you understand the basics of nonprofit payment processing and know how to select the best option for your organization. Here are some common questions we receive:
What payment processing solution is best for nonprofits?
How much does payment processing for nonprofits cost?
What are the most important things to look for when it's time to shop?
An All-in-One Solution
Make it Easy to Give
Secure, convenient payment processing makes it easy to give, and large-scale, low-cost nonprofit payment processing means you don't have to spend time worrying about what's happening to donations. With a collection rate that hovers around 98%, CharityEngine has the tools you need.