As a nonprofit professional, you know how integral donations are to the core of your operations. While for-profit companies sell a product or service in return for funding, a nonprofit must rely on the charitable spirit of their supportive community.
The gifts you receive from donors are the primary source of power for your mission. You need these funds to continue feeding your cause and making a difference.
In order for your organization to more effectively raise money, you need to keep track of your past campaigns, those who participated in those campaigns, and other important details about supporters.
Nonprofit professionals like yourself track all of this data with effective donor management software.
In this article, we'll start with a short overview of donor management software, then we'll dive into the reviews of top solutions for nonprofits like yours. Use the navigation below to jump to the section you're most interested in, or just start from the beginning!
Ready to learn more? Let's jump in!

What is donor management software?
Donor management software is a solution that stores and tracks donor engagement data to better build relationships with supporters and boost retention rates.

When you have access to information in a storage unit about each of your supporters, your organization can better get to know your supporters to build relationships with them. For instance, you can use the information to target your messages to best appeal to your audience. This results in your supporters feeling more closely connected to the nonprofit and providing even more support.
However, many organizations are concerned about spending too much of their time compiling this database of information. Isn't your time better spent working towards the mission itself?
That's why nonprofits should streamline as much of the data transfer process as possible by choosing a donor management software solution with a variety of functions. When information is automatically transferred from your fundraising pages or advocacy campaigns into donor profiles, you'll see advantages like:
Minimizing human error that stems from manual data transfers.
Saving time for staff through automatic data transfers.
Ultimately saving money as you don't need to purchase multiple software solutions.
Therefore, when you look for donor management software that's the right fit for your nonprofit, be sure to look for more than just storage space to keep key donor information. You should also look for a variety of tools that will help you achieve your goals.

What to look for in donor management software
Of course, the first thing you should look for in your donor management software is the ability to store all of the data that you need for each donor. Look for donor profiles that will store information like:
Donation information such as the date, amount, and frequency of giving.
Credit card data to allow for easy recurring payments or one-click giving.
Advocacy involvement for a well-rounded view of donor engagement.
Familial and business connections for more targeted outreach.
Custom fields to save data that is relevant to your specific organization.
Of course, there's an unlimited amount of potential information you could save as a part of your ideal individual donor profiles.
When you choose donor management software, you must identify the key pieces of data that will be most important for reaching your organization's goals, then ensure the software offers the ability to store that information.
Our advice is to also look for donor database features that help your organization with fundraising and outreach.
Fundraising Tools
Fundraising information is one of the most important things to store in your donor management software. And, as we said before, it's much easier to store data when you streamline the transfer of information between software systems.
Look for a donor database that allows you to create fundraising pages and campaigns so that the information collected during these campaigns will be automatically saved in donor profiles.
Some of the tools you should look for include:

Online fundraising forms. Be sure the software you choose offers customizable forms so that you can use your organization's brand colors, logos, and fonts to format the page. This establishes an additional element of trust with your donor as they land on your donation page because they know they're donating to the right organization.
Peer-to-peer fundraising pages. Peer-to-peer fundraising is a great way to support your organization's expanding donor database. Your fundraisers can customize their own fundraising pages with images and information about what your nonprofit's cause means to them. Then, they'll distribute that information on social media.
Event registration tools. Event registrations are a great way to encourage supporters to get involved with your organization, to meet the surrounding community, and to give back all at once. Be sure to offer online registration options to collect vital information and store it in your CRM.
All of these tools will help you collect funds. When the tech necessary for them is also part of a larger donor database, you can streamline data that you collect from donors when they give directly into their donor profiles.
Outreach Tools
One key piece of information you store in your donor database is contact information for each of your donors. It saves your organization's staff time and energy to use this contact information directly in the database to communicate with donors.
First, you can use the data points in your database to segment donors into groups based on commonalities. For instance, you may create a segment of first-time donors, another of donors who live in a certain geographical area, and another of donors who work for the same company.
Then, you can use these segments to reach out to supporters and use targeted messaging techniques to capture their attention. For instance, inform all donors who work at the same company about their eligibility for a matched gift from their employer.
Send these messages through outreach tools such as:

Email. Email is a particularly useful tool because you can send messages directly to supporters' inboxes. When you craft emails, be sure the content is mobile optimized in order to ensure your supporters can read it no matter which device they check their mail on.
Direct mail. Direct mail isn't dead! Many supporters appreciate a letter in the mail and some even find it to be a more personal platform of contact. Be sure this isn't your only method of contact though. Combine your direct mail and digital communications strategies for the best response rate.
Social media. Social media can be tricky because you're not sending it directly to supporters. However, if you notice a particular generation or a particular commonality among your active social media users, you can use those traits to target your message according to what they'll respond best to.
Your donor management software should be able to pull data directly from donor profiles so that you can easily craft and send these messages.
For instance, when you type out a letter for direct mail within your donor management software, you can auto-populate a person's preferred name into the subject line and print a corresponding envelope with their address using the information in that donor's profile.
As another example, you can use the same type of data, preferred name and email address, to craft an email to donor segments. All you need to do is type the message and include the segment to whom you wish to send the message: the software will pull the relevant name and contact information on your behalf for a quick sending process.

What is the best donor management software? CharityEngine!
What is CharityEngine?
CharityEngine is more than simply donor management software. With an effective CRM at its core, CharityEngine can save all of the relevant data about your donors that you look for in a great donor database.
However, the other tools included in this all-in-one solution help your organization do more.
CharityEngine prides itself for providing a complete solution that tracks every aspect of the donor journey in order to strengthen relationships with supporters.
Within this solution, you'll find software designed to help your organization raise funds, launch advocacy campaigns, reach supporters, and report on important metrics. It helps you do all of these things while helping you maintain good data hygiene through automatic deduping and streamlining metrics.
What makes this a great donor management software?
As we said before, CharityEngine provides all of the tools you need to build relationships with donors and lead them along the donor journey.
Because CharityEngine provides fundraising software (among other features) in addition to its donor database software, your organization can track the engagement of your supporters in real time.
As a first-time donor follows a link to your donation page to contribute to your mission, your CharityEngine donor management software creates a new donor profile, tracks what link that donor clicked on to get to your site, and gathers all of the relevant donation information. That donor can choose to save a credit card on file to make it even easier to give again next time.
As you send messages to this supporter with your messages targeted to best appeal to her, her relationship with your organization grows. Eventually, if she makes for a good prospect, you'll be able to start cultivating that same donor as a potential major donor.
What's the best thing about this donor management software?
CharityEngine offers tools that make establishing a relationship with donors easier for your organization in addition to the donors themselves. For instance, for your organization they offer features like:
Payment processing. Payment processing through CharityEngine is PCI-certified. This means they go one step further towards payment processing safety than PCI-compliant software does by hiring a third-party safety auditor to inspect the solution.
Event management. Manage all of the backend information such as your venue, speakers, and ticketing data in a single location. You can also host peer-to-peer fundraising campaigns or auctions using this same software.
Custom reporting and dashboards. Custom reporting and dashboards make it easy for your organization to track fundraising and campaign successes and opportunities now and in the future.
And for donors, they offer other features such as:
Self-service portals. Self-service donor portals make it easy for donors to take the relationship with your organization into their own hands. They can update their personal information, print tax information, and manage sustainer accounts.
One-click giving. When donors save their credit card on file, they can give to your organization much faster in the future as they click a "donate" button once and contribute a gift.
Surveys. Make it easy for supporters to bring key issues to your attention. Listen to them. Provide the opportunity for them to give you feedback at the end of a campaign or an event through an online survey.
With these many different features built into your donor management software, CharityEngine has the most functionality to strengthen relationships.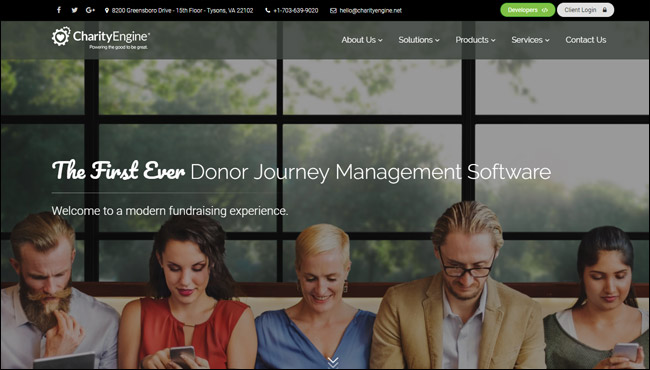 Pricing
Investing in an all-in-one solution may have a higher up-front fee for the donor management software due to the expansive functionality. However, in comparison to purchasing all of the tools provided within this software separately, the price is a fraction of what it could be.
Contact CharityEngine for more information about pricing for your organization's needs.

Donor Management Software for Donor Retention: Bloomerang
Overview of Bloomerang
Bloomerang built their donor management software solution based on the recommendations of nonprofit experts Adrian Sargeant, Tom Ahern, Kivi Leroux Miller, and Jay Love. Each of these professionals specialized in various aspects of the nonprofit strategy and joined forces to focus this software on retaining the greatest number of donors possible.
Bloomerang focuses on providing an engagement score for each of their supporters to give a good indication to your nonprofit as to how involved each supporter truly is.
From there, your nonprofit can make the best decisions to move forward with that engagement to keep strengthening relationships.
Notable Features of This Donor Management Software
Bloomerang's donor management software provides insights into the lives of your supporters with features such as:
An interactive dashboard. Get a quick look at your organization's existing donor retention rate (with suggestions for improvement), the success of current fundraising campaigns, and to-do lists for the week in one convenient location.
Generosity score. In addition to the engagement level, Bloomerang integrates with DonorSearch to help provide a generosity score based on prospect research for each of your supporters. This helps you get a jump-start on major gift prospect research.
Constituent timeline. A visual timeline of each supporter's past interactions with your nonprofit makes it easy for you to get a better understanding of the true frequency of engagement for individual constituents.
The Ahern audit is built into the Bloomerang system as well. This audit runs the "you" test (counting the number of mentions of "you" or "your" and comparing to the mentions of "I" and "we") in the communications you draft within the donor management software. It also provides a Grade Level score to help you hit the mark with your messages every time.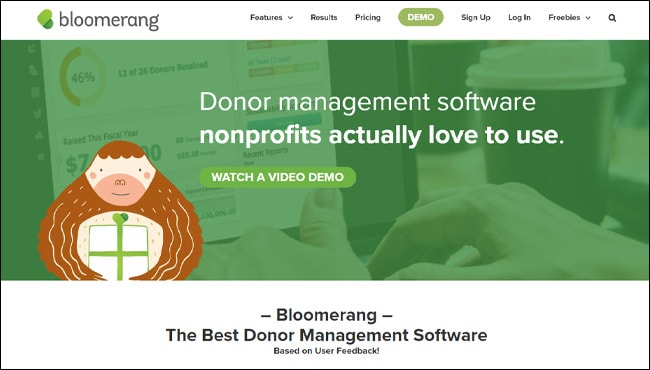 CRM Pricing
Bloomerang also offers tiered pricing based on how many records your organization needs access to. Smaller organizations can get started with Bloomerang for free with a limited version of the software. The bottom tier of the software with full functionality is $100 per month for 1,000 records, increasing to $499 per month for 40,000 records.

Donor Management Software for Large Organizations: Salsa
Overview of Salsa
Salsa offers unique platform packages that you can choose depending on the needs of your nonprofit. Their two main packages include a fundraising software package, Salsa Engage, and donor management software, Salsa CRM.
When you purchase Salsa CRM, you also gain access to Salsa Engage. However, Salsa Engage is also available for purchase on its own.
Salsa CRM is focused on easing the internal processes of your organization. When your internal processes are running smoothly, you can more effectively build external relationships with constituents as well.
Notable Features of This Donor Management Software
Salsa CRM offers features that make it a powerful tool for your organization's development team. Some of these key features include:
Donor profiles. Build extensive donor profiles to track donations, communications, and other interactions your donors have with your organization.
Digital marketing. Automate marketing strategies for your email communications and social media outreach. Plus, dashboards show how effective these marketing campaigns are.
Engagement opportunities. With Salsa, you can provide various engagement opportunities to your supporters from fundraising pages to event registrations to advocacy campaigns.
When all of these features make up a seamless ecosystem of nonprofit software, you can customize reports that include various elements of data for a more complete view of your overarching strategies.
For instance, you may look to see how effective your social media marketing strategy was for launching your latest advocacy campaign. From there, you can make further determinations for more effective campaigns next time around.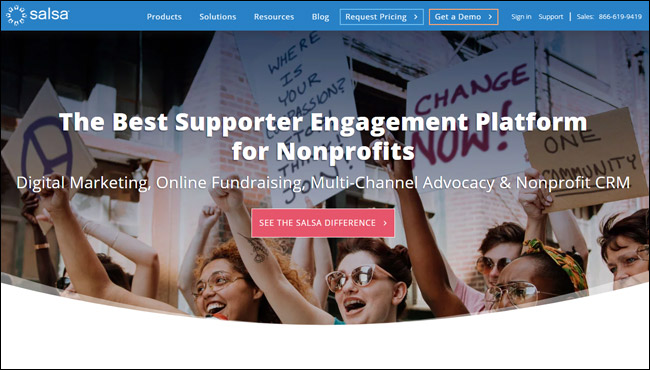 CRM Pricing
Contact Salsa for more information about the pricing for Salsa Engage and Salsa CRM.

Donor Management Software for Customization: Salesforce
Overview of Salesforce
Salesforce itself can be viewed as a bucket for information to be stored away. What really makes Salesforce great is the customizability of the platform when you begin adding various apps to it.
You have the option of choosing Salesforce native apps, those that are built on the Salesforce platform, or software that integrates with Salesforce.
You may work with the native Nonprofit Success Pack (NPSP) from Salesforce to get started. Or you may choose to invest in software from Soapbox Engage, Salsa Labs, or other top providers who integrate with Salesforce.
Notable Features of This Donor Management Software
As we stated before, Salesforce has incredible customizability. This is because of the incredible presence the CRM has in the software community. Salesforce is one of the leading CRM software options for all organizations, extending its reach to for-profit and nonprofits alike.
Because of its popularity, top software providers will often offer Salesforce compatible options. This means you can get the majority of your favorite software and use it seamlessly on this platform.
The other major feature of Salesforce is that the whole system is cloud-based. You can store a lot of information without ever purchasing expensive hardware or paying installation fees. This also makes maintenance and updates easier to install.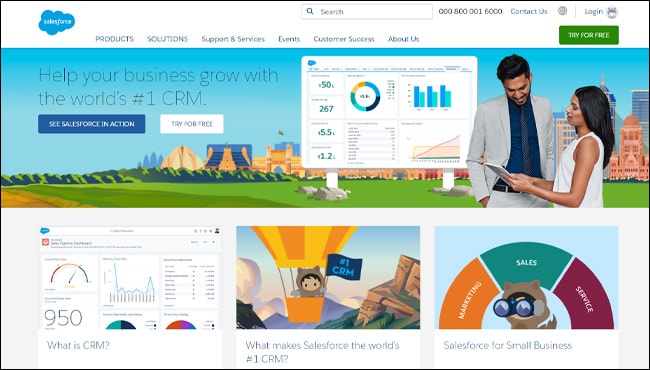 CRM Pricing
The first 10 subscriptions to the Nonprofit Success Pack by Salesforce are free, making it a tempting option for smaller nonprofits. However, Salesforce requires a lot of customization to meet the needs of these individual nonprofits and the limited manpower can make this more difficult to accomplish.

Donor Management Software for Growing Organizations: Blackbaud Raiser's Edge
Overview of Raiser's Edge
Blackbaud is an extensive nonprofit platform with different solutions and software options that, when combined, can fulfill all of the major needs of nonprofits. Raiser's Edge is generally the software solution that introduces nonprofits to the Blackbaud platform.
As your organization continues to grow, you can expand your software ecosystem to include the other Blackbaud products to fit your growing needs.
Raiser's Edge is a donor management software solution which, when properly configured, will store data about your supporters and provide fundraising tools for more effective campaigns.
Notable Features of This Donor Management Software
Raiser's Edge offers standard donor management features to store information about your nonprofit's supporters. You can track contact information, giving history, prospect research data, and more. However, this software also offers other features such as:
Analytics. You can view information such as your nonprofit's donor retention rate and campaign data quickly and easily.
Pre-built reports. When you want more detailed reports about the strategies and campaigns of your nonprofit, you can generate one of the pre-formatted reports offered as a part of the software.
Social media tools. Not only can you design and automate marketing campaign strategies for various social media platforms, but with Raiser's Edge you can also design custom online forms that can be easily shared on Twitter or Facebook.
Blackbaud is a popular software platform for large and growing organizations. Therefore, many support resources are available that specialize in the configuration of this platform.
It's easy to find online guides for Raiser's Edge (like this one) as well as professional consultants who can walk you through the configuration of your CRM to best fit your needs.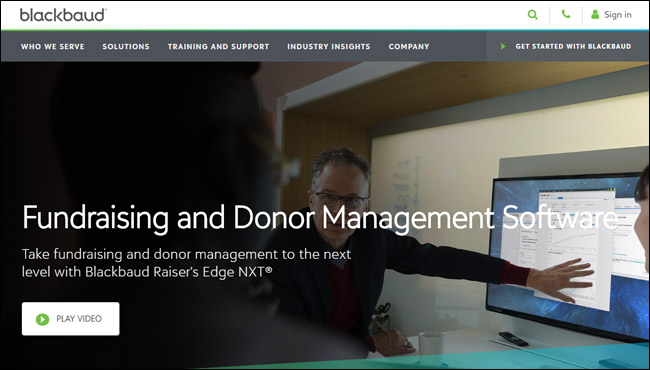 CRM Pricing
Because it's so multifaceted, Raiser's Edge will likely be slightly more expensive than other solutions. This expense may grow as you continue to invest in other Blackbaud products. Contact Blackbaud for more specific information about Raiser's Edge pricing. Then, budget carefully.

Donor Management Software for Data Analytics: EveryAction
Overview of EveryAction
EveryAction offers donor management software to fit the varying needs of nonprofits. From the information you collect during fundraising campaigns, your organization can compile effective custom reports.
EveryAction makes it easy for nonprofits to both store important information about donors and campaigns as well as report on these data points in order to adjust your strategy for the future.
Once you've decided your next best steps based on these reports, you can use the extensive functionality of EveryAction to change the strategy right in the same software.
Notable Features of This Donor Management Software
When your donor management software offers features that facilitate fundraising, grant management, planned giving, segmentation, marketing, and more, you can easily compile reports that also reflect the data collected in the implementation of strategies surrounding these concepts.
The features offered by EveryAction that facilitate your comprehension of data analytics include:
Data visualization. The dashboards available through EveryAction make it easy to view your analytics in a visual format for better comprehension. Use the analytics collected to create charts and graphs to accurately communicate the success metrics of campaigns.
Source tracking. Track the sources of your donations across campaigns, funds, and appeals. Hierarchical codes help fundraisers track and report on fundraising goals and performances.
Report builder. Build reports based on your segmented data for a deeper understanding of your data. You can arrange metrics based on channels, timeframe, source, etc. and interpret it accordingly.
Reports are the key for checking in on the successes of campaigns and strategies. When you have this information, you can leverage it for growth in the future.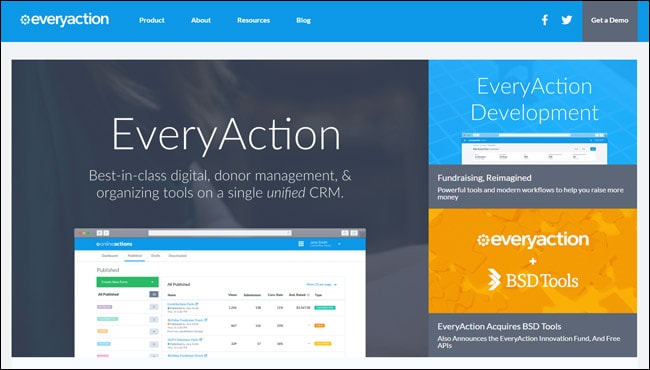 CRM Pricing
Contact EveryAction for more information about pricing.

Donor Management Software for Engagement Opportunities: DonorPerfect
Overview of DonorPerfect
DonorPerfect is a donor management software built for nonprofits and designed to help supporters get more involved with the organization. You can offer opportunities for involvement that extend past regular donations.
Specifically, DonorPerfect helps nonprofits establish effective volunteer programs to help supporters donate time in addition to money.
This time spent volunteering can then be added to donor profiles. Be sure to thank your volunteers just as you do your donors.
Notable Features of This Donor Management Software
By partnering with SignUp.com, DonorPerfect has made it easy to organize volunteers to give back to your organization. You can:
Allow volunteers to pick and change their volunteer locations and time.
Manage your volunteer base with streamlined email and communications.
Convert volunteers to donors with target-specific campaigns.
DonorPerfect helps engage supporters through their effective volunteer opportunities. You can then track the successes of converting these volunteers into donors with custom reports.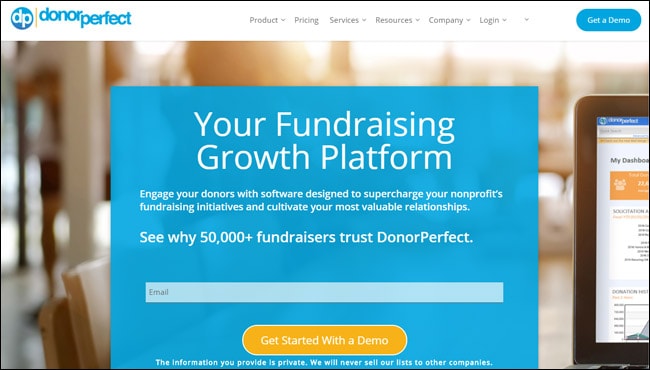 CRM Pricing
DonorPerfect has a variety of plans you can choose from depending on your organization's needs. The Lite option offers 1,000 records and costs $89 per month. You can upgrade to the larger packages for more records and more functionality.
---
Donor management software is the core of effective outreach to build relationships with supporters. When you have the ability to store information about those who contribute to your nonprofit, you can leverage that information later to show your supporters you care about their interests.
Our favorite donor management software options do more than just store the information. They also help with this leveraging process. From fundraising forms to marketing tools, the best software options will help you through every process of donor engagement, or the entire donor journey.
If you're looking to continue your research about donor management and the associated software, check out the articles below:

Ready to Test Drive CharityEngine Software? Click here to Start your 10 Day Free Trial today!