Mclean, Virginia (September 9, 2021) – CharityEngine, a leading provider of donation management technology and payment processing services for nonprofit organizations, today announced that their MobilePay app is now available via download in all three of the major app stores - Google Play, Apple iOS and Windows. The MobilePay app, integrated directly with the CharityEngine suite of fundraising products, will allow fundraisers to securely and seamlessly take payments for donations, event registrations, and other onsite transactions on a tablet or smartphone.
MobilePay gives CharityEngine CRM users a seamless way to accept donations instantly by entering supporter payment information directly into the phone/tablet. The payment is instantly processed, receipted, and updated automatically within the CharityEngine CRM and fundraising software for a seamless transaction process from start to finish.
"The inclusion of CharityEngine's fundraising tools in the major app stores puts CharityEngine's fully integrated donor management technology easily and directly in the hands of our nonprofit customers – both the organization and their passionate supporters – as they drive social change." Said Philip Schmitz, CEO & Founder of CharityEngine. "Matched with easily available credit card swipers, we are able to power on-the-ground fundraisers in their quest to bring in the dollars to carry their missions forward with the simplicity of their own Android, Windows or Apple phones and tablets, and our secure, PCI-certified payment technologies."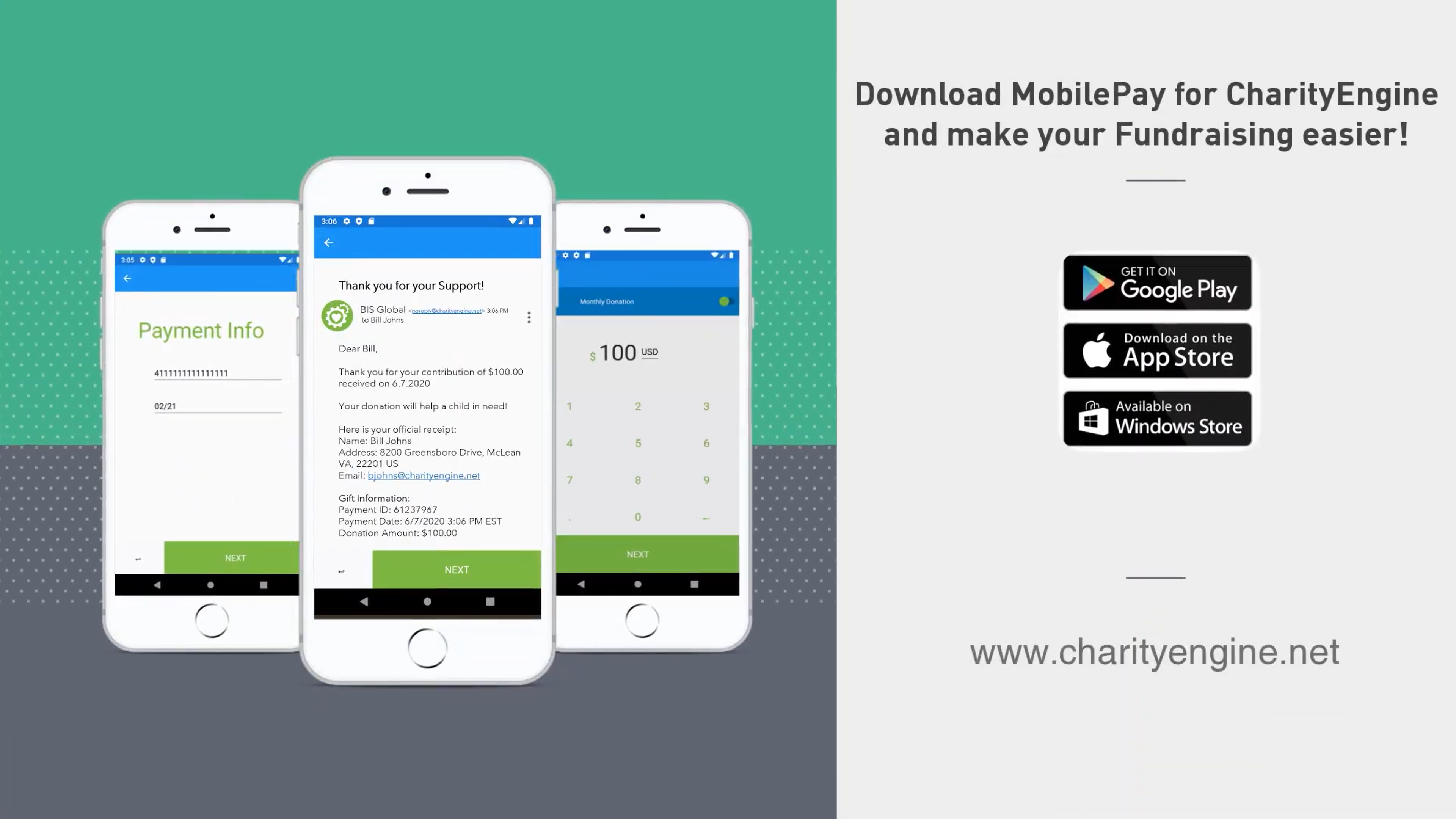 CharityEngine® based in Mclean, Virginia is a leading CRM and all-in-one fundraising software that helps nonprofit organizations globally to manage donors and donation fulfillment with a fully integrated suite of online tools backed by full-service support. The cloud-based application and hosting firm has employed their fundraising technology for hundreds of organizations including Wounded Warrior Project, Appalachian Trail Conservancy, BrightFocus Foundation, Foodbank for the Heartland, AMVETS, and Rainforest Trust. For more information on CharityEngine and its products, please visit www.charityengine.net
Apple Pay is a trademark of Apple, Inc. Google Pay is a trademark of Google, LLC. Windows is a trademark of Microsoft, LLC.
Media Contact:
Andrea Carles
press@charityengine.net
703.639.9020