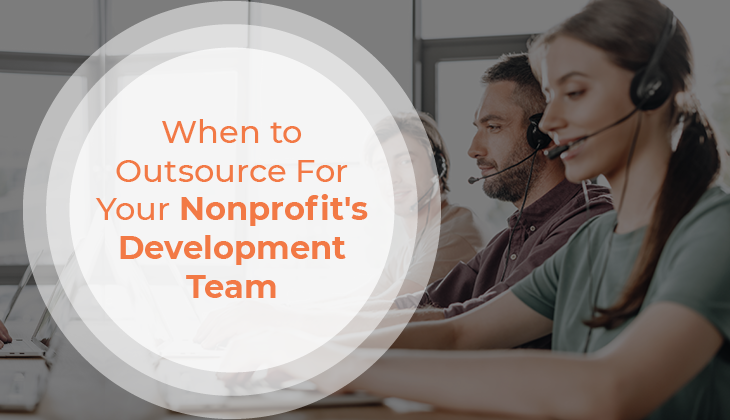 Fundraising development is critical for nonprofits of all sizes. Whether you work at a small-staff organization with less than 10 full-time employees or a large nonprofit with a hundred staff members, you need effective development strategies to drive your fundraising efforts.
However, successful fundraising campaigns can be challenging to produce, especially for small to mid-sized nonprofits that may not have as many in-house staff members and resources as larger organizations do. These smaller nonprofits may not have the in-house data processing capabilities, fundraising experts, or other assets needed to take their development teams to the next level.
That's why many organizations outsource their development teams, bringing on fundraising professionals such as consultants. These experts help save your team's time and lay the groundwork that allows you to sustainably grow your fundraising capacity going forward. If your organization is interested in outsourcing your development team, here are a few situations where this might be the right call:
When you want to create an effective data-driven strategy.

When you need to fulfill a highly specialized role.

When you're building your fundraising strategy from the ground up.

When you have an open position you're not yet ready to fill.

When you need help with a little bit of everything.
Although fundraising consultants are often seen as partnerships that only large nonprofits can afford, small and mid-sized organizations are actually in a great position to bring on outside help. Fundraising consulting doesn't just mean investing in the help of an expensive professional who completely redesigns your strategies and campaigns. Consultant services come in all shapes and sizes, and they can be viable partners for any organization.
In particular, as Donorly's fundraising consultant guide points out, development specialists focus on building a strong internal fundraising framework and increasing fundraising capacity over time. Small and mid-sized nonprofits can reap the benefits of this long-term assistance. Let's dive into each situation where outsourcing your development team may be beneficial!
When you want to create an effective data-driven strategy.
Your organization may not have a data expert on staff who can conduct comprehensive prospect research to identify new fundraising opportunities on an ongoing basis. If this is the case, this may be an area where an outside expert can provide a lot of quality advice and guidance.
For instance, you may be planning to launch a more extensive fundraising effort like a capital campaign and need to identify prospective major donors ahead of time. This research process can help you create a solicitation strategy for these potential donors and start forming relationships with them in the months before your capital campaign officially launches.
In this situation, you may want to search for a consulting firm that specializes in prospect research. Prospect research consultants can screen your donor database to identify potential high-value donors, improve your in-house research processes, and help build stronger major gift and planned giving revenue streams. Depending on your organization's needs, they can provide either full-time or monthly support. Check out this guide to hiring a prospect research consultant for more tips on making the process a success.
When you incorporate prospect research consultants into your development team, they can help you identify high-value prospects and create a personalized outreach strategy to win support.
When you need to fulfill a highly specialized role.
Additionally, if you work for a small or mid-sized nonprofit, your staff may be made up of many generalists who have a wide range of skills and wear many different hats. This can provide the flexibility you need when you have a small staff, but it may also lead to knowledge gaps across your team.
For example, you may want to bring in someone to your team who can focus all their energy on identifying, cultivating, and stewarding major donors. In this case, it makes sense to outsource a major gifts officer who already has the necessary expertise and training under their belt.
An outsourced major gifts specialist can work as if they're another member of the team. With this expert on board, you'll be able to identify new opportunities for planned giving, annual gifts, capital campaign contributions, and ongoing major donor stewardship.
Another example to consider - your organization may be interested in taking advantage of grants offered by the government or foundations, but you don't have a team member on staff who can devote their time to writing grant applications. In this instance, you may outsource a grant writer who can devote their undivided attention to applying for grants on behalf of your organization.
These outside consultants can provide your team with the specialized knowledge and expertise that your team is currently missing.
When you're building your fundraising strategy from the ground up.
If you're involved with a fast-growing, start-up nonprofit, it can make for an incredibly exciting environment. Change is a constant, and team members continuously contribute new ideas and explore new, cutting-edge fundraising techniques. However, during this phase, it may be helpful to bring in a fundraising consultant to provide the underlying framework upon which you can build out your fundraising strategy.
As Donorly's fundraising strategy guide states, fundraising consultants can bring the following skills to the table:
Offering sophisticated donor and prospect research

Supporting the rest of your in-house development team

Carrying out feasibility studies

Advising campaign strategies
Hiring a fundraising consultant might seem counterintuitive at first. After all, nonprofits typically focus on raising money, not spending it. However, when you bring in an expert who can help establish powerful, long-term fundraising strategies, you can recoup the investment when you bring in more fundraising dollars as a result of their help. Certainly, consider your organization's budget and capacity before you hire a fundraising consultant, but also think of the long-term gains this can generate.
When you have an open position you're not yet ready to fill.
Any time you have an open position on your nonprofit's staff, it can lead to a lot of stress and anxiety. Your team's performance might suffer from the vacancy, and you have to spend time trying to fill the position and training the new hire once they're on board. All in all, this process can take months and cost your organization dearly when you take into consideration the lack of hands that could have contributed to fundraising efforts.
A consulting firm that offers transitional development leadership can step in to temporarily fill the open position, keep your organization afloat, and help prepare you to hire a full-time employee. They'll equip you with nonprofit development training resources and structured hiring processes to ensure you won't need a transitional service the next time you have a vacant position.
It may be in your organization's best interest to hire one of these transitional consultants so you don't have to scramble to fill your open role. You can take your time with the hiring process to ensure the next person you bring on board is truly the right fit, and that they're likely to stick around.
When you need help with a little bit of everything.
Your organization might need support with just about every aspect of your fundraising efforts that you can think of. Alternatively, you might not be able to put your finger on exactly what you need help with, but you know that you do need some outside help to figure it out. These are both situations where an outsourced development consultant can prove valuable!
A fundraising professional can assess the situation, diagnose your organization's weak points, and craft relevant, effective recommendations to set you on the right path. When you hire an experienced consultant, you can rest assured that they've seen it all before and have valuable insights to offer. As long as you practice open and honest communication with your consultant, it should be a productive relationship that sets your nonprofit up for success.

---
Because your development team is the wing of your organization tasked with steering your big-picture fundraising efforts, you must have effective, competent team members working in this group. These are a handful of scenarios where it might be worthwhile to outsource your development team and bring on an external consultant who can lead this branch to success. Keep in mind that while this will be an investment for your organization, it's also an investment in your future success.
---
Ready to Test Drive CharityEngine Software? Click here to Start your 10 Day Free Trial today!