COVID-19 has impacted almost every aspect of society. As individuals, we find ourselves working from home, distancing ourselves from others, wearing masks, and changing plans. As nonprofit organizations, we've had to make adjustments as well. For instance, we've changed our event calendar, halted in-person fundraising activities, and adjusted our strategies to account for the unpredictable economic climate.
While you likely compiled a concrete and comprehensive fundraising and financial plan at the onset of 2020, those plans may not have come to fruition due to the societal changes resulting from the virus.
Now that we're months into the COVID-19 pandemic, one aspect of your organization essential to update is your approach to your new pandemic-adjusted budget.
We don't know exactly when the virus will end or what the future will bring for the nonprofit sector, so it's important to establish sustainable nonprofit budgetary practices now. In this article, we'll cover some best practices that your organization can use to rework its budget to account for economic disruptions.
Table of Contents
Rework your events.

Leverage technology.

Outsource, contract, and recruit help.

Prepare for the year's end.
Ready to learn more about nonprofit budgetary best practices? Let's get started.
1. Rework your events.
If you're like so many other nonprofit organizations, a large chunk of your revenue likely comes from your prepared event calendar. You may end your annual peer-to-peer campaign with a well-crafted celebration. Or, maybe you host an annual gala where your major donors typically contribute a large annual donation.
Due to social distancing regulations, your event plans have likely changed drastically. This means that your fundraising revenue plans have probably also been altered for the year.
When you review your budget, be sure to look over your new event plans and account for any revenue and expense changes that come with the adjustments.
For instance, if you've had to cancel your events entirely, be sure to account for:
Any expenses that you've already incurred in the event planning process, such as the acquisition of ticketing software or non-refundable venue deposits.

Ticket refunds that supporters may request. Be sure to give them the option to either request a refund or donate the funds to your organization instead.

The funding that you will be missing out on as a result of the cancellation. You may consider hosting a different type of fundraiser to account for some of this revenue.
Canceling events will surely change the revenue and expense budget for your organization. Run some numbers to see how much your original plans will be impacted by the change.
Instead of outright canceling, your organization may have decided to pivot your event to the virtual sphere. Going digital may mean that your organization incurs some different costs. However, this option is usually less expensive than hosting an event in-person. Therefore, your considerations change slightly:
If you've purchased additional software to pivot your event to the virtual world, you should add those expenses to your budget and estimate a new cost of the event itself.

You may decide to change the price that it costs to purchase tickets to your new event. However, you may have a broader reach in the virtual sphere. Therefore, provide a new estimate for event ticketing revenue.
Your event plans have almost certainly changed during the COVID-19 pandemic. Be sure to make note of these changes and create new estimates in your annual budget accordingly. Who knows? You may find that virtual events are more lucrative than in-person ones!
2. Leverage technology.
From working from home to pivoting your event plans, many nonprofit organizations have adjusted their tech stacks to account for the challenges that we've encountered during the COVID-19 pandemic in 2020.
Your tech stack is a valuable investment for your nonprofit. It can help you create new online opportunities and streamline your organization's operations. As you consider your organization's budget and how new technologies have impacted it, be sure to analyze both your up-front costs and additional financial implications of your software investments. You should also think about how you can make the most of the solutions in order to get the most out of your new investment.

In DNL Omnimedia's article about nonprofit technology, their team explains that software has several benefits for organizations. In fact, their graphic below sums it up very nicely: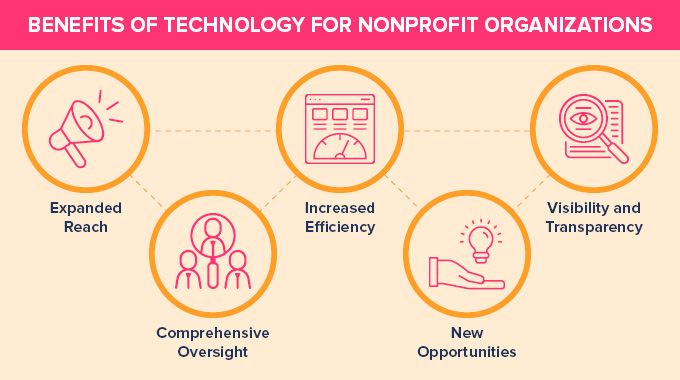 You should consider how you can achieve as many of these benefits as possible as you implement any new technology that you've invested in during the 2020 pandemic.
Consider, for instance, the following examples:
Donor management software.

In addition to organizing your donor data, many donor management solutions also offer fundraising solutions. By using these features in conjunction with one other, you can automate the saving of donor information and increase efficiency.

Virtual event software.

If you've purchased virtual event software to handle the ticketing for your upcoming event, consider digging into the solution to see if they also offer live-streaming options. This would create new opportunities for your upcoming event as you're able to add a face-to-face element while maintaining your digital approach.

Your marketing software.

You probably employ a software solution for your email marketing strategy. Check to see if this solution also offers social media automation. If so, you can expand your reach and improve your marketing strategies by quickening the process.
When you think about your tech budget, you should not only consider how much you spend on the software you've invested in, but also how much you can get out of those solutions. This helps you get more from the expense and obtain additional donor revenue for your organization.
3. Outsource, contract, and recruit help.
Many nonprofits are finding that they have additional needs that need to be met given the current challenges they're facing. For instance, you may find that you could use extra support with your new technology investments or maybe you need access to a professional to analyze the changes in your strategies.
Hiring new team members to pick up the slack can quickly become expensive for your organization. Therefore, to help maintain a healthy budget, look for other options when it comes to filling in any gaps on your organization's team. Some of these options include outsourcing, contracting, and recruiting volunteers.
Let's consider each of these options:
Outsourcing.

Outsourcing is a great way to get professional guidance for a specific aspect of your organization's strategy. For example, many nonprofits find success when outsourcing their bookkeeping and accounting services because it provides expert opinions without the massive expense that accompanies the hiring and salary process for an in-house expert.

Contracting.

If your nonprofit needs specific tasks completed, you may consider contract work. For example, you may contract a ghost writer to help with your marketing initiatives. This is an especially appealing option if you need short-term help rather than a long-term commitment. Keep in mind that if you contract work, it may change your year-end tax preparation process. You may need to file a 1099, which, as defined by

Jitasa's 1099 guide

, is "the miscellaneous income tax form, used to prepare and file income information that is separate from wages, salaries, or tips."

Recruiting volunteers.

You have an option to recruit highly skilled volunteers to help in-office with specific aspects of your strategy or to hire general volunteers to help with simpler tasks. Highly skilled volunteers can be more difficult to come by and more challenging to replace. However, they can help with a variety of tasks like fundraising or data entry. Meanwhile, general volunteers can help with tasks such as sorting food for food banks, socializing animals at an animal shelter, or answering the phone at your front desk. Just make sure you stay organized with your volunteer recruitment and opportunities for more impactful and efficient

volunteer coordination

.
If you need to expand your staff capabilities, look for options that will help you save funds while still obtaining the help you need. Finding alternatives to fill gaps in staffing is especially important if your organization finds itself in the position of having to let someone go for financial purposes or if you've had employees leave due to the virus's effects.
4. Prepare for the year's end.
There's always a lot going on for nonprofits at the end of the year. Not only are you working hard to take advantage of the additional generosity that comes along with year-end fundraising, but you're also working to compile documents to summarize the successes and opportunities over the past year and prepare for the upcoming one.
Because there's so much to take into account, preparation for the year's end will go a long way in ensuring that you get everything done. This preparation will help you maximize fundraising revenue and prepare your budget for next year. Consider the following tips:
Remind supporters of the additional advantages to give in 2020.

This article

explains that the CARES Act, passed earlier in the year, has a clause that enables those who donated during the 2020 calendar year to take an above-the-line tax deduction. Remind your supporters of this additional incentive to contribute so that they can get their donation in before the year is over.

Compile your tax documents as soon as you can.

Don't wait until the last minute to turn in your 2020 Form 990. Be sure that you know exactly what reports to pull at the end of the year to make filing quick and easy. Or, know what accounting team you'll call to help with filing the form.

Start pulling information for your annual report.

Ample communication, such as a comprehensive annual report, is vital for nonprofits during a crisis. It keeps your supporters in-the-know about what all is happening at the organization and helps you review the documentation from the year.
In addition to these tips, one of the most important things that you'll do as the year draws to an end is review your updated budget in preparation for next year.
If you've made updates to your budget throughout the year (as you should), then crafting your budget for 2021 will be much easier. Social distancing guidelines aren't disappearing anytime soon, so reviewing the financial data from your adjusted strategy will help you formulate a plan for the next year to come.
Make sure that you have updated and descriptive financial data that you can lean on when it's time to compile your next annual budget.
Your nonprofit budget should never be a set-it-and-forget-it document. You should revisit it throughout the year and make adjustments as necessary. Given the chaos and uncertainty of the year, it's become even more important for organizations like yours to revisit your budget and make updates according to your strategic changes.
With these tips, you should be able to reorganize your budget and make sure your nonprofit remains financially stable during the remainder of 2020 and into 2021. Good luck!
Connect with us for a free demo and trial of CharityEngine's nonprofit software and experience how CharityEngine can help you improve communication with your donors.

This article was contributed by our friends at Jitasa.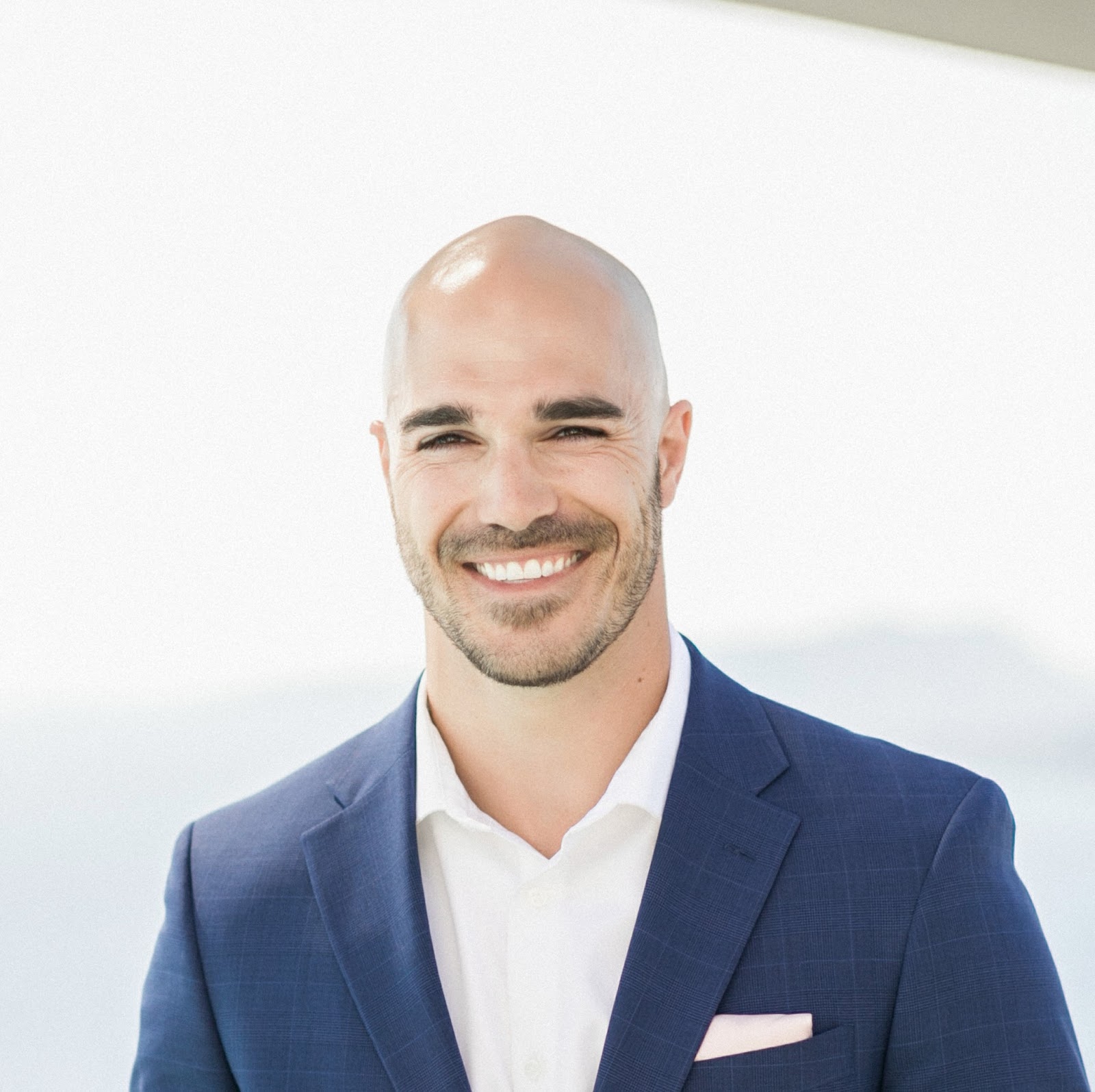 Author: Jon Osterburg

Jon Osterburg has spent the last nine years helping more than 100 nonprofits around the world with their finances as a leader at Jitasa, an accounting firm that offers bookkeeping and accounting services to not for profit organizations.

Ready to Test Drive CharityEngine Software? Click here to Start your 10 Day Free Trial today!