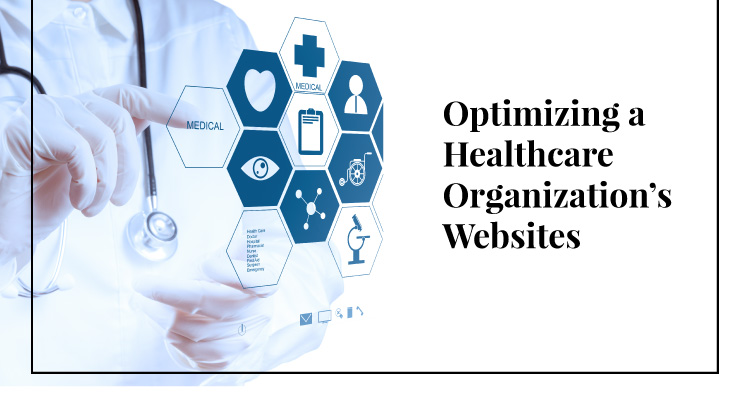 Your healthcare organization's website is more than just a valuable marketing tool. It's likely the first place constituents look to engage with your offerings, learn more about your research, and determine if your mission aligns with their needs.
If your organization's online conversions are lacking—maybe you noticed an increase in homepage bounce rates or a decrease in online gifts—taking the time to optimize your healthcare website is the best way to go.
At Kanopi, our technology consultants have worked with healthcare organizations and institutions to develop engaging online strategies and build out beautiful websites.
In this guide, we'll be discussing the importance of your healthcare website and the steps you take to optimize it. Then, we'll explore one of our healthcare clients to see how their site has improved to reflect their offerings and meet their audiences' needs better. Let's dive in!
Why Your Healthcare Website Is So Crucial
According to a study on US adults and their electronic health behaviors, it was found that those with chronic conditions relied on their healthcare's website and eHealth offerings to help manage their disease. A different study also found that 52% of healthcare information seekers online are also wary of false or misleading information.
So, while healthcare websites are consistent and vital resources for patients and your organization's constituents, online users are still cautious about the information presented.
On top of acting as a resource for medical or research questions, your website is also the go-to place for most engagements. Without compelling design and intuitive user experience, you're missing out on multiple opportunities.
Taking steps to optimize your healthcare website and ensuring it reflects transparency and authenticity will position your organization as a thought leader and ultimately increase online conversions.
The common website engagements you have to account for include:
Constituents signing up for appointments, classes, or other experiences you offer.

Prospects seeking contact information, organization locations, and other content with pertinent information about your practice.

Supporters signing up for fundraising events.

Virtual events

have also been rising in popularity—if this is something you're offering, then it's likely even more people will be on your site.

Donors giving to your organization to help fund your research, studies, and the care that you provide to your community.

OneCause says

that "online fundraising is essential in this new fundraising world," so make sure, along with physical donations, you also provide easy ways for them to give through

your website

.
While your healthcare website is one of the best ways to promote your offerings and engage with online constituents or supporters, research shows that it can also do so much more than that. Ensure you're leveraging this existing investment to the best of your ability and reaping all of the benefits.
Essential Steps of a Website Optimization Project
So, you've decided that your healthcare website is in need of an optimization project. But what does this exactly entail?
This is more than making sure that your CMS is properly updated. A dedicated website optimization project aims to ensure that each process is working efficiently, increase your SEO ranking, and build a flexible site that grows as your organization does.
Here is how the process might look:
Start with a website site audit

— A website audit is an in-depth review of a website's current performance. Audits are there to reveal tech issues like gaps in your CMS or highlight specific areas that could need improvement. In your audit, look for common problems like an outdated CMS or plugin/module, slow page speed, and SEO opportunities.

Make a list of current gaps and opportunities

— With the results from the website audit, start listing those findings. This is the time to take note of any engagements that have fallen behind, like if you have a lapse in charitable donations. These are the areas you'll address when optimizing your site.

Plan out the steps of the pla

n — Using your list, start ranking each action item by priority. To help, consider factors like resources needed and the time it'll take to complete. Make sure to include the end goal itself, the exact steps needed to get there, and the tools you'll need to invest in. Then, start assigning team members to each one. You might find that you need additional help, like a tech consultant.

Partner with a nonprofit technology consultant

— If your tech audit results indicate that this is a bigger project than expected, consider partnering with expert professionals. Tech consultants can help with several essential tasks regarding your digital system and online engagements, like website building, content strategy development, and more.
Whether you've been slacking on regularly maintaining your CMS or your current build isn't capable of meeting your needs, then a more comprehensive site optimization project is critical. Use these steps to determine your healthcare site's specific problem areas and how you might address them. In the end, asking for professional assistance is your best bet.
San Francisco Health Service System: A Healthcare Site Optimization Project Success Story
If you think that your healthcare website could use an upgrade but don't know where to start, looking at real-life examples is a valuable way to spark inspiration and get the gears turning.
The San Francisco Health Service System (SFHSS) is an organization providing medical benefits and healthcare to Government employees across the bay area. Starting with a static and outdated HTML website that was only accessible by their IT team, SFHSS knew that they needed an upgrade. They wanted their website to cater to their community of 126,000 by raising awareness, providing programs, and connecting members to the health services they deserve.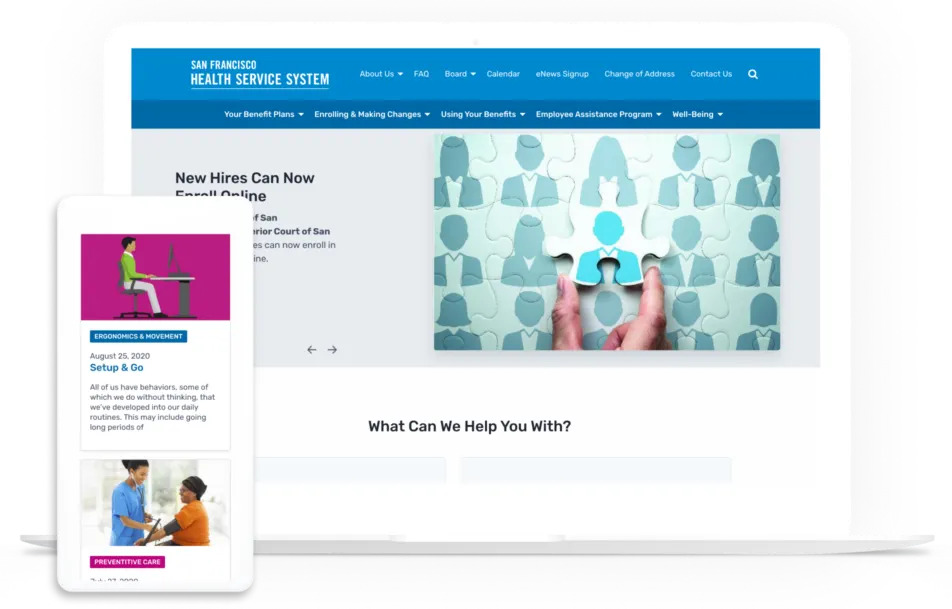 Kanopi partnered with SFHSS to transfer their original build to the Drupal CMS, while knowing that user needs and content design was a top priority. After all, their site needs to be easy and intuitive to use for their entire community.
Using Drupal 8, the Kanopi team worked closely with SFHSS to:
Build a flexible and buildable site architecture.

This makes it easy for any SFHSS editors to alter designs or add new content.

Ensure the site is fully responsive and accessible.

This ensures that all community members have access to benefit information.

Add an event calendar to the site

. This is an easy way to connect community members to resources, information, and experiences to improve their health.
With the launch of this new site, it's been found that SFHSS's user experience already resulted in a 15% increase in new users, 47% increase in page views, and a decrease of 19% in page bounce rate.
Wrapping Up
If you lead a healthcare organization, medical nonprofit, or other similar type of institution, you surely have a website. But is this website doing all it can for you? Is it encouraging online conversions and promoting an engaging atmosphere for users? If you don't quite know the answers to these questions, your site could likely use some tweaks.
Whether these optimizations are done on your own or with a dedicated partner, ensure your website is designed with your story and users' needs in mind. This is the best way to increase online engagements and even garner fundraising support for your organization. Good luck!