When you first started your nonprofit, you likely used spreadsheets to store information about your supporters' contact information, donation amounts, date of giving, campaigns supported, and all sorts of other information.
As your nonprofit grows, these spreadsheets have likely become overwhelming. Fortunately, you can solve this issue with a nonprofit constituent relationship management (CRM) solution. Unlike spreadsheets, nonprofit CRMs are designed specifically to manage your supporters' data and keep your nonprofit organized.
To kickstart your research process, we've compiled this guide and list of top nonprofit CRM providers. It's our goal to help you choose a nonprofit CRM that will fulfill the needs of your organization and support sustainable growth. We'll cover the fundamentals of choosing a CRM, then provide recommendations to help get you started comparing software solutions, through the following points:
What is a Nonprofit CRM?

Benefits of Investing in a Nonprofit CRM

Nonprofit CRM Key Features to Look For

Top 9 Nonprofit CRM providers
The solution you choose shouldn't just help your nonprofit manage data, but also help guide your supporters through their journey of building a relationship with your organization. Choosing the best nonprofit CRM is the key to unlocking that journey. Let's get started!

What is a Nonprofit CRM?
CRM stands for constituent relationship management. A nonprofit CRM is specifically designed to organize, maintain, and manage information relevant to a nonprofit's donors and supporters. The data stored in your CRM can be used to help you reach these supporters and fundraise more effectively.


Unfortunately, the majority of nonprofits do not conduct the proper amount of research necessary to choose a solution that will meet their needs and help them grow. A lack of research often results in ineffective financial investments in software that lacks necessary functionality. Nonprofits who make this mistake quickly outgrow their new solution or decide to invest in better software, leading to costly future purchases and data migrations.
Don't let that happen to your nonprofit by taking the time to thoroughly research each potential CRM solution.

Benefits of Investing in a Nonprofit CRM
With the right solution, your CRM can track all of your donors' individual journeys with your nonprofit, allowing you to personalize their experiences. All-in-one solutions take this a step further by storing all of your data in one centralized location, making sure data from every interaction your supporters' have with your nonprofit—from volunteering to event attendance—is kept organized.
Nonprofit CRMs also allow you to track your organization's campaigns to improve your fundraising success.
Let's dive a little deeper into the individual donor journey and nonprofit campaign tracking.



Donor Journey
Your CRM can be used to store individual profiles for each of your donors, providing information about every engagement opportunity offered through your organization. Supporter profiles allow your nonprofit to monitor key metrics, including:
Giving frequency

Gift amounts

Participation in advocacy campaigns

Website engagement metrics
It's almost impossible (and definitely inefficient) to try to reach out to your supporters one-by-one based on this information. That's why some CRM solutions allow nonprofits to create segmented lists to reach out to donors with commonalities. The result is a more personalized message sent in the most efficient manner.
For instance, if you know which of your donors frequently attend your events and purchase merchandise, you'll know who to reach out to with early access to purchase a special edition t-shirt for your upcoming fundraising festival.
By contrast, this same invitation might not be as well received by brand new donors. By monitoring your supporters' donor journeys, you'll know which donors to contact for which opportunities.



Campaign Tracking
Nonprofit CRMs will store information about more than just your donors. Your CRM also should help you track your fundraising campaigns.
CRMs can be used to document the individual interactions with donors that make up larger campaigns. With your CRM, these many small interactions can be compiled to provide high-level insights into the entire campaign. For example, you might track engagement rates on different channels or conduct A/B testing on marketing materials.
Use your CRM to organize your fundraising efforts into individual campaigns and sub-campaigns (smaller, specific campaigns that contribute to an overarching campaign). This allows you to see how your efforts interconnect and helps you measure specific metrics.



Key Nonprofit CRM Features to Look For
While most CRMs come with basic data management and communication features, not every solution comes with the complete toolkit you need out-of-the-box.
For most nonprofits, an all-in-one solution will fill your organization's CRM needs in addition to fundraising, payment processing, communication, major gift management, and more.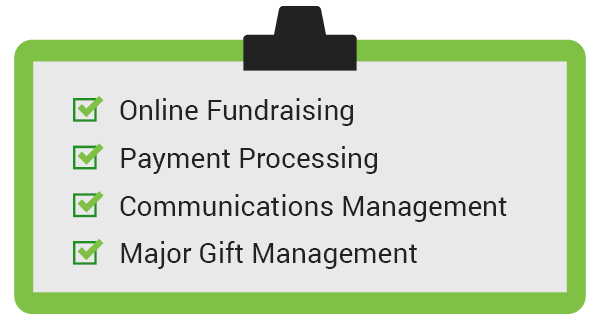 Let's dive a little deeper into these key nonprofit CRM features.



Online Fundraising
Online fundraising features help streamline the data collection process, keeping your internal financial records and reports up to date. This eliminates the need for time-consuming manual transfers of information between separate fundraising and CRM solutions.
Before investing in a CRM with online fundraising forms, carefully examine your forms' functionality. Some CRMs may come with incomplete forms with limited features. Look for forms that offer:
One-click giving.

Make it simple for returning donors to give again and again without filling out the same tedious information for each gift.

Responsive design.

With

57% of online traffic

coming from smartphones and tablets, your donation page needs to look good on all devices with responsive design.

Customizable branding.

Your online fundraising page should reflect your nonprofit's brand. Be sure you can update the fonts, colors, and images to match your site.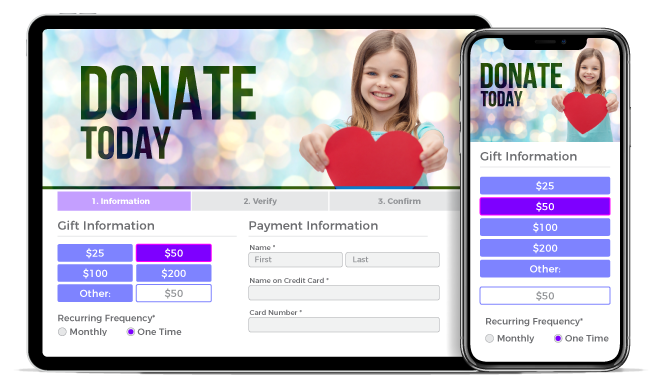 Donation forms are the core of your fundraising campaigns. When they're built into your nonprofit CRM solution, you save time and energy through automated data collection. Every transaction is immediately collected and used to update donor profiles.



Payment Processing
Do you really want to process donations externally? When your CRM features a built-in payment processor, you can ensure successful and secure processing and timely information updates.
An effective built-in payment processor will enable your organization to:
Automatically update credit card information.

With a built-in payment processor, you can automatically update your donors' credit card on file when it changes or expires. The CRM should recognize the same donor giving with a new card, enabling you to add that card to your existing records.

Securely process donations.

When assessing security, be on the look out for PCI-compliant and PCI-certified payment processors. Of the two, look for a provider with a PCI-certification. This means the provider has been evaluated and tested by a third party to ensure their security meets the highest standard possible. In comparison, PCI-compliant testing is more frequently completed in-house.

Significantly reduce costs.

A built-in processor can significantly reduce payment processing costs by cutting out third-party fees.
In addition, by creating a seamless flow of billing data into your CRM with a built-in payment processor, you'll have a complete 360-degree view of all of your financial information for accounting purposes.




Communications Management
Getting the word out about your organization's fundraising campaigns, stewardship events, and mission is vital for achieving your goals. Your CRM should make it easy to segment your donors and communicate directly with them through multiple channels.
When you're looking at a new nonprofit CRM platform, look for tools that allow your organization to leverage:
Email campaigns.

Be sure you can personalize the emails by automatically populating your supporters' names in the header based on their profile in the CRM. Ensure your CRM offers email customization to represent your organization's brand.

Direct mail marketing.

Direct mail isn't dead! A combination of both direct mail and digital strategies helps build multiple touchpoints with supporters, establishing brand recognition and allowing for more calls to action.

Automated messages.

Make sure you're able to immediately thank donors for their contributions by sending a quick confirmation email right after they give.
Instead of transferring contacts and donor segments to a different software solution for effective communication, nonprofit CRMs with robust communication management tools can pull contact information directly from the supporter profiles.



Major Gift Management
Whether your nonprofit has one hundred or one hundred thousand supporters, you've likely noticed that the bulk of your funding comes from a handful of donors. In fact, most nonprofits receive approximately 80% of their funding from 20% of donors.
How can this be? The answer: major gifts.
With so much riding on your nonprofit receiving major gifts, your CRM should support your efforts with features that make it easy to track these gifts from beginning to end:


Beginning of the engagement.

Very few major gifts are given by an anonymous stranger. Most major donors start as average donors, making a contribution to a cause they believe in.

Prospect research.

Your CRM should integrate with a prospect research database. This will help you identify supporters who have the potential to become major donors.

Cultivation.

Once you've discovered prospective major donors, begin stewarding a relationship with them. The cultivation phase is a direct attempt to build and steward a relationship with a major prospect. Your CRM will allow you to track each interaction with supporters, helping to build and document the relationship.

The gift.

Record mid-tier and major gifts in your CRM under the donors' profiles. Be sure you thank them and determine the next best steps to continue furthering these relationships.
Major gift cultivation requires a human touch, but your CRM should help record and manage your efforts. While simple solutions with less functionality may appear less expensive upfront, the truth is that an all-in-one solution can earn your nonprofit more in the long run.



Top 9 Nonprofit CRM Providers
You'll see all sorts of lists of the various nonprofit CRM features you need in your future software.
But remember, every nonprofit is different. Take your nonprofit's specific needs into account and how you plan to fill those needs. Then, as you begin researching solutions, compare each CRM's features to your top priorities.
We've assembled a list of the top nine nonprofit CRM providers to help get your research started:
CharityEngine


Overview
CharityEngine's all-in-one fundraising software is designed to provide nonprofits with all of the tools they'll need in one place, without needing to add other integrations. Access fundraising, marketing, and donor management tools to create and execute your fundraising strategies. Their comprehensive solution offers built-in features that can help grow your fundraising efforts, such as event management tools, advocacy solutions, online forms, PCI payment processing, peer-to-peer fundraising and expansive reporting. CharityEngine allows your nonprofit to enhance every step of your donors' journeys, starting from their first impression of your marketing materials and continuing far into the future.
One integrated system ensures all of your data is already connected, allowing you to gain a comprehensive view of your nonprofit's operations. Whether you're collecting donations online through your website, running a peer-to-peer campaign, or cultivating major gifts, all of your data will be stored in the same, organized location.
Top Features
As an all-in-one solution, CharityEngine provides nonprofits with nearly every software solution they might need, including:
Donation and event forms.

Your donation and event forms are a core part of your nonprofit's fundraising strategy, and CharityEngine's CRM allows nonprofits like yours to build branded forms that encourage recurring donations and increased giving.
Email marketing.

Get in touch with your supporters by creating segments and sending them beautiful designed, engaging emails. Then, track your email's success by using CharityEngine's reporting tools to monitor open rates, allowing you to experiment with A/B testing to find the email design that earns the highest engagement rates.
Payment processing.

Unlike most payment processing systems, CharityEngine is PCI-certified, meaning its payment processor is verified by trained third-party professionals.
Major gifts and grant management.

Cultivating major gifts and applying for grants are both time-intensive tasks that require dedicated management tools. With CharityEngine, your team will be able to monitor and track all of your necessary information in one system.
Advocacy software.

Advocacy campaigns can help your nonprofit engage supporters in new ways, while also furthering your mission through direct, political action.
In addition to these features, CharityEngine also offers nonprofits volunteer management, event management, merchandise and logistical support, a CMS, campaign tracking features, and more.
Price
Learn more and get a quote by requesting a CharityEngine demo.
Bloomerang


Overview
Bloomerang prioritizes donor engagement and retention with online giving pages and marketing outreach. Customize online giving forms, website integrations, social media listening tools, and an email design platform. Bloomerang integrates with DonorSearch's tools to provide a "Generosity Score" and "Engagement Meter" for each donor.
Top Features
To help your nonprofit retain donors, Bloomerang's CRM has the following features:
Smart reports.

Use a template or build a report from scratch to find the exact information your nonprofit needs with Bloomerang's smart reporting tools.
Social listening.

Connect your CRM to your nonprofit's Twitter to monitor social media chatter and even connect individual tweets to supporters in your database.
Nightly NCOA updates.

Even your most dedicated supporters may forget to inform your nonprofit when they move and change addresses. Bloomerang keeps your donor database up to date with nightly NCOA updates that monitor address changes.
Additionally, Bloomerang offers resources on their website to help nonprofits understand how they can better leverage these tools to build relationships with their constituents.
Price
Bloomerang offers a range of packages, starting at $99/month for organizations with up to 1,000 constituents. Check out Bloomerang's full pricing list to find a solution that matches your nonprofit's needs.
Salsa CRM


Overview
Salsa's interconnected tools help you communicate, advocate, and fund your cause with a donor database and engagement suite. Their features include donor profiles, marketing automation for email, social media, texting, and online and offline donation processing.
Top Features
With Salsa's CRM, you'll have access to:
Robust donor profiles.

Capture every detail of your interactions with donors with Salsa's rich donor profiles, and put that information to use with built-in alerts and automated "next suggested gift" amounts.
Donor management and reporting tools.

Get a 360 view of your donors, including major gift management and easy to use search tools for donor segmentation and outreach.
Digital marketing capabilities.

Salsa's social media manager allows you to monitor your messaging across a variety of channels, create custom emails, and broadcast text messages to specific supporter segments.
When combined with Salsa's engagement platform, these tools will allow your nonprofit to fundraise online efficiently and make data-driven decisions.
Price
Contact Salsa to get a pricing quote.
Neon CRM


Overview
Neon CRM offers a flexible, scalable, cloud-based CRM for nonprofits. Despite their name, Neon CRM actually has a full suite of fundraising tools available in addition to their CRM software, allowing nonprofits to gain access to a variety of necessary software applications when purchasing their CRM.
Top Features
While Neon CRM has a variety of tools available, nonprofits interested in their CRM can find:
Open API.

Neon CRM has a wide range of integrations, and nonprofits who can't find the exact software they're looking for can still get what they need with NeonCRM's open API, which allows for custom integrations.
Event management.

Neon CRM's event management tools include volunteer management tools, ticketing software, attendee tracking, and more.
Donor timelines.

Get an overview of your supporters' relationship with your organization with donor timelines. See every interaction your nonprofit has had with donors organized chronologically.
Depending on the package you purchase, nonprofits can gain access to even more fundraising tools, including grant management features, peer-to-peer software, and workflow automation capabilities.
Price
Neon CRM has three core packages. Their Essentials package can be purchased for $99/month, their Impact package can be purchased for $149/month, and their Empower package can be purchased for $299/month.
Keela


Overview
Keela is a cloud-based nonprofit CRM that empowers organizations to raise more with built-in artificial intelligence tools. Rather than relying on intensive data analysis, Keela's smart CRM can do it for you, elevating the most important information and providing recommended next steps.
Top Features
Along with its smart tools, Keela also offers nonprofits:
Personalized campaigns.

Segment your donors and send them coordinated email blasts to help your campaigns build momentum and find success.

KPIs and benchmarks.

Understand how your nonprofit is doing on a deeper level from just a quick glance by using Keela's KPI and benchmark dashboard.

Volunteer management.

Use Keela to stay in touch with your volunteers as well, with communication, management, and tracking tools.
Keela also integrates with many popular software solutions, including MailChimp, Stripe, Paypal, and many more.
Price
Keela's pricing varies depending on your number of contacts, starting at $49/month for organizations with 500 contacts. Use Keela's pricing calculator to learn more.
DonorPerfect


Overview
DonorPerfect's CRM software helps nonprofits meet and exceed their fundraising objectives, claiming that nonprofits raise 20% more in their first year using DonorPerfect and can achieve a 47% donor retention rate, 20% more than the industry average.
Top Features
DonorPerfect helps nonprofits achieve their fundraising goals with a variety of features, such as:
Integrated online forms.

DonorPerfect's branded, integrated donation forms can dramatically increase your online fundraising potential.

Event management tools.

DonorPerfect's mobile app, DPMobile allows your staff to check-in guests and collect payments in-person at your events.

Automated workflow.

Reduce time spent on administrative tasks with DonorPerfect's SmartActions, which allow users to automatically complete other tasks such as sending emails, updating data, and assigning tasks.
Your entire organization can enjoy these features at the same time, as DonorPerfect allows for an unlimited number of administrative users to log on at once.
Price
DonorPerfect offers a range of plans, starting at $99/month. Check out DonorPerfect's complete pricing guide to find a package that meets your nonprofit's needs.
Raiser's Edge


Overview

Nonprofit professionals familiar with cloud-based software have likely heard of Blackbaud and their comprehensive CRM, Raiser's Edge. As a cloud-based software solution, Raiser's Edge aims to not just be a standalone CRM for nonprofit, but the core infrastructure of your organization's online tools.
Top Features
Nonprofits interested in exploring Raiser's Edge can discover the following tools:
Prospecting tools.

Raiser's Edge uses powerful data analytics tools to provide smart recommendations about your donors. Plus, with their data enrichment services, you can discover more about your prospective donors.
Messaging tools.

Raiser's Edge allows nonprofits to create dynamic email campaigns, building custom messages and scheduling when each email is delivered and to who.
Role-based work centers.

Nonprofits with large teams can stay organized with Raiser's Edge's role system. These help you track the progress of both your teams and individual employees.
Nonprofit professionals interested in mastering Raiser's Edge's features can also explore Blackbaud's extensive catalogue of training opportunities.
Price
Get a quote by contacting Blackbaud.

Kindful


Overview
Kindful focuses on communication with donors and supporters. Optimizing your marketing and communication strategy with unlimited email and letter templates and a task manager. Integrate your email strategy with Mailchimp, view communication history, and segment your donor lists.
Top Features
Along with offering a variety of integrations, Kindful also provides nonprofits with:
Donor lifecycle dashboard.

Get a quick overview of your donors' relationship with your nonprofit through Kindful's donor lifecycle dashboard that displays recent activities with easy to understand graphs and charts.
Wealth insights.

Learn more about your donors, including their capacity to give and likelihood to become a repeat donor with wealth prospecting features.
Self-import tool.

Add all of your donor data and other important information to Kindful on your own with their easy self-import tool.
In addition to Kindful's already numerous features, your nonprofit can integrate additional software for even more functionality.
Price
Kindful's pricing depends on how many contacts your nonprofit has. For example, organizations with 1,000 contacts can use Kindful for $100/month, while those with 5,000 would be charged $200/month. Check out Kindful's price calculator to learn more.

Salesforce


Overview
Salesforce is one of the most popular CRMs around for both nonprofits and other organizations. To adapt Salesforce's platform for your nonprofit's needs, they urge nonprofit organizations to utilize their Nonprofit Success Pack (NPSP), which transforms Salesforce to meet nonprofits' unique needs.
Top Features
Nonprofits who make use of Salesforce's NPSP will discover:
Relationship management.

NPSP provides an overview of all of your constituents, empowering your team to get in touch with your supporters and further key donor relationships.

Program management features. Outside of fundraising and donor relationship management, your CRM should also help support your nonprofit's core work with program management tools.
Real-time donation and income management features.

View all of your incoming revenue in one location in real-time. NPSP also has specific recurring gift management tools to make the most of this vital income stream.
Salesforce also helps nonprofits get started by ensuring their first ten subscriptions to Salesforce tools are free.
Price
Nonprofits can get started with Salesforce and NPSP for $48/month. For additional features and price plans, check out Salesforce's pricing guide for nonprofits.
Wrapping Up
Your nonprofit CRM is the heart of your organization's software, and the solution you choose will shape how nearly every part of your nonprofit operates. This makes choosing the right software solution well worth the time and effort spent researching CRMs, evaluating your nonprofit's current tech needs, and trying demos of promising solutions.
To help continue your research, learn more about what a robust CRM solution can offer your nonprofit and how to leverage your new software to its full potential with these resources: