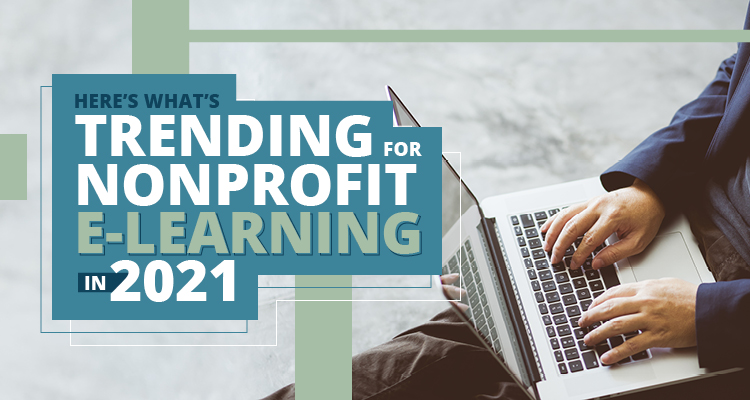 The end of the year is undoubtedly a busy time for your nonprofit. Not only are you bringing in about 30% of your total annual gifts through year-end giving, but you're also conducting gratitude events, sending thank-you notes, and planning for the new year.
Now that we're more than mid-way through 2021, we can assess what trends have made a lasting impression. Specifically, let's discuss the e-learning trends that have been on the rise, and how you can incorporate them into custom-developed courses to help your team rise above and beyond what you accomplished this year.
Here's what's trending for e-learning in 2021 and a few tips for how your team can create courses that keep up with the times.
Providing Flexible Training Opportunities
Take a minute to look around your office. If you're like many nonprofit professionals, we'd guess you've transitioned from your organization's facilities to a living room, dining room, bedroom, or home office situation. Overnight, your coworker one desk over was replaced with a wandering pet or family member binging Netflix originals.
It's easy to think working from home (and removing the commute to the office) means your team has more time on their hands than before. But the reality is that many people are working more hours and filling their evenings with socially-distanced social activities, and your team is probably busier than ever.
That brings us to our first e-learning trend for 2021: providing flexible learning opportunities for your nonprofit's staff.
This essentially means structuring e-learning in a way that employees can complete training as they need it. For example, let's say Marge the Matching Gifts Officer is looking for some tips to successfully solicit gifts on a video call. With flexible e-learning, Marge is able to access a course that covers that specific skill and review it when she has time in her schedule.
With that in mind, here are two strategies you can use to provide flexible training opportunities for your team:
Create microlearning courses to highlight specific topics.

Microlearning courses

are relatively short, focused experiences that accomplish a single learning outcome. They're ideal for supplementing longer courses and bringing one concept to the forefront. So, you could create a timely microcourse about navigating your CRM, best practices for soliciting donations over the phone, or whatever other challenges your team is facing.

Use branching scenarios to direct learners to the information they're seeking.

With branching scenarios, your courses "branch off" into various topics, so your learners can follow the path they're interested in. Let's say you created a comprehensive course about asking for donations. With branching scenarios, you can create separate "paths" for various obstacles a learner might encounter, such as overcoming solicitation nerves, responding to "no," or even conducting prospect research.
Remember, periods of change—whether you're adopting new tech, working from home, or adjusting to a new management structure—often come with a minor productivity dip. One key to supporting your team through change is to be realistic about what your nonprofit's staff can handle and being flexible with your training methods to support that.
A Focus on Diverse, Representative Content
Your team has likely completed diversity, equity, and inclusion (DEI) training—or if not, you're probably planning training sessions in the future. So, let's fast forward to the point after your team has completed this training.
Your team has completed DEI training and they're excited to take active steps toward a more diverse, equitable workplace. Now let's say Marge, from the last section, visits your organization's e-learning library to review a past course and freshen up her memory. She finds a course that is valuable—but, it also uses exclusively western American names and shows little racial diversity. Talk about whiplash!
The fact is, DEI training has little impact if you don't start actively pursuing it across your organization. That includes reflecting a diverse workplace in your training going forward. Here are a few tips to make e-learning content that's reflective of your organization's pursuit of DEI:
Use diverse characters throughout courses.

This includes reflecting racial diversity and using

names from around the globe

. If all characters in your course are named Adam, Sally, Jenny, etc., you're not creating diverse content.

Reflect cultural diversity.

So, let's say you created a course on year-end fundraising. In the course, you show a calendar view of December with key year-end fundraising dates. Do you include Christmas on that calendar? If so, you should also reflect Hanukkah and Kwanzaa, two other major December holidays.

Provide courses for learners in other languages.

If you have staff members or volunteers who are non-native English speakers, consider

translating your courses

for their benefit.
Think of it this way: last year, showing that you care about your supporters was the backbone of all of your planning. Heading into 2021, it's just as important to show your staff members and volunteers that you care to create an equitable environment for them—all of them.
A Push for Immersive Courses
After a year of in-person training and working from home, virtual training and e-learning courses have become the name of the game.
Think back and consider what happened when you pivoted from fundraising events to the virtual sphere. Did you choose virtual events that simulated the in-person experience? Maybe this meant "attendance" at a live-streamed gala or a peer-to-peer 5k where supporters connected on social media and all ran at the same time.
To successfully transition to virtual events, you had to immerse supporters in the event. The same is true for successful e-learning training from afar.
With e-learning, this translates to creating immersive simulations and scenario-based courses. This type of course allows learners to "step in" to an experience as if they're actually learning those key skills in person. Here are a few tips to create immersive e-learning experiences:
Replicate your nonprofit's facilities in the course.

Don't choose a standard, generic background for your simulations and scenarios. Replicate the design of your facilities to immerse learners in the experience, down to the paint, furniture, and layout.

Use realistic scenarios and dialogue.

Which evacuation-related challenge is your team more likely to face: an alien invasion or a simple kitchen fire? Obviously the second option. When a learner notices the fire, are they more likely to yell "Help! I have noticed a fire in the kitchen!" or "Fire! Run!"? Your learners aren't going to opt-in to the immersive scenario if it's too far removed from reality.

Have learners make decisions on-the-spot.

Don't just have learners watch a scenario play out like a movie. Make the learner a decision-making character in the experience, allowing them to practice responses and see the results.
Creating immersive experiences, whether simulations or scenario-based learning, might be slightly more advanced than your team is familiar with. That's okay! Consider bringing in an e-learning content development company to help develop your course. This team's expertise in both content authoring and course development can bring your e-learning courses to the next, immersive level.
To wrap up, e-learning courses are trending toward flexibility, diversity, and immersion in 2021. With these tips, you'll create courses that are ahead of the times and meet your team's training needs in the new year.