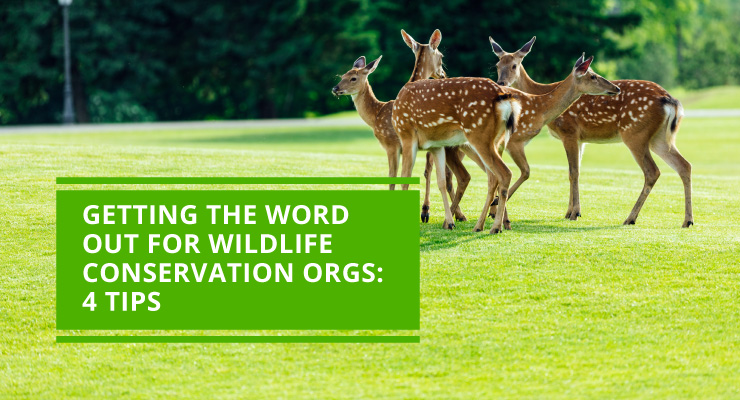 Every nonprofit organization wants to expand its outreach, and while communicating with supporters is easier than ever, your wildlife conservation organization also has more competition than ever before. Getting the word out about your mission requires strategic outreach campaigns that differentiate your nonprofit and show supporters why your organization is worth supporting.
Your nonprofit's field determines how your organization should market itself. Organizations and advocacy groups promoting wildlife conservation have unique assets for their outreach materials, like attention-grabbing pictures of animals and landscapes. However, they also face unique challenges, including results that only develop after long periods of time, which can lead to reduced engagement.
At Grassroots Unwired, our experience with advocacy and canvassing software has made our team experts in grassroots outreach for nonprofits and advocacy groups in a variety of fields, including conservation. To help your environmental organization improve your supporter outreach, this article will discuss how to:
Use Canvassing Campaigns

Host Events

Send Traditional Mail Appeals

Partner with Corporations
These tips aim to maximize environmental organizations' inherent advantage when it comes to forming connections with supporters. However, your nonprofit's best path forward will depend on your organization's size and resources. Take inventory of your organization's current operating capacity and growth goals to determine how these best practices apply to your unique situation. Let's get started.
1. Use Canvassing Campaigns
If your wildlife conservation organization is concerned with an upcoming piece of legislation regarding the environment, consider mobilizing your supporters by conducting canvassing campaigns.
Effective canvassing campaigns require focused planning. Before sending your volunteers out with clipboards, organize your campaign by:
Training volunteers.

Your volunteers' ability to communicate your organization's mission and build connections will determine whether or not your canvassing campaign succeeds. Teach volunteers how to deliver your organization's pitch for support and respond to common questions. If you're using

canvassing software

, train volunteers how to use it ahead of time to prevent any technical problems or other slowdowns in productivity.
Creating a timeline.

If your organization's goal is to mobilize advocates for a specific piece of legislation, cause, or other time-sensitive event, be sure to plan your campaign out ahead of time to have the best chance at success. As you plan your campaign, schedule time for your team to recruit volunteers and workshop outreach materials in addition to the time reserved for canvassing.
Setting campaign goals.

What do you want your canvassing campaign to accomplish? Are there any improvements you'd like to make over your last campaign? For example, you might aim to cover a wider geographic area to reach new supporters. Alternatively, you may want to create more sustainable connections by persuading more people to sign on as

recurring donors

. Record data from your canvassing campaigns so you can use this information to establish goals for future campaigns. Be sure to review every campaign after its completion to determine where it succeeded and where you have room for improvement.
One disadvantage of conservation organizations is that attaining tangible results takes time. Keep the supporters you attract during your canvassing campaigns invested in your organization by communicating regularly and providing updates, stories, and impact reports about your organization's efforts.
2. Host Events
People often become interested in organizations not because they have a connection to a particular cause, but because their friends and family recommended it to them. Word of mouth marketing is a valuable outreach method, and there are steps your organization can take to encourage it to earn increased support.
Fundraising events can get people talking about your nonprofit and earn donations to support your cause. If guests enjoy themselves at your event, they are likely to discuss it with friends, family, and coworkers, broadening your organization's potential audience.
It's important to throw events that are both entertaining and convey your organization's message. To ensure guests leave your event discussing what matters, make sure you:
Place your mission center stage.

Between food and activities, guests can get distracted from the real purpose behind the event. You might combat this by having multiple speakers share information about your organization's mission. You can also integrate your cause into activities, so guests are always being informed about your cause. For example, you might

use your advocacy software

to help create an interactive map displaying key legislation in different districts. Supporters will gravitate towards learning about their location and comparing it to others nearby.
Provide additional resources for guests to learn more.

Give guests clear next steps to take after your event to help turn casual attendees into supporters. Follow up with guests after the event to thank them for attending and provide information advertising your next event in addition to information informing them about your mission.
Use software to collect information throughout the event.

Event software allows you to manage and track guest attendance for both in-person and online events. Review data between events so you can target key metrics for improvement, like overall attendance, retention between events, and number of supporters who followed up after the event.
Successful events can also generate effective marketing materials. For example, take pictures during your events that show guests having fun, socializing, and learning about your mission. These photos can then be used in outreach materials for your next event and inspire repeat attendance for the guests who appear in the photos.
3. Send Traditional Mail Appeals
Effective outreach campaigns consider what will catch supporters' attention and how you can most effectively communicate your mission. You can connect with supporters by creating content that encourages supporters to take the step from acknowledging your organization to contributing.
Wildlife conservation organizations have one distinct advantage over other nonprofit fields: photogenic subject matter. The truth is that most people choose which causes to support based on their emotions first, then justify their decision later by looking at facts and statistics. Groups that work with animals and the environment have a unique opportunity to create emotional appeals using photographs of their work that have wide appeal with those who like cute animals or enjoy images of nature.
For these purposes, traditional mail appeals have a leg up on online outreach. Unlike emails and social media posts, which are easy to scroll past, direct mail materials provide a physical, tangible item for supporters to hold and consider. Using this medium, conservation organizations can create effective outreach appeals by:
Including high-quality photos.

High-quality materials not only showcase your organization's professionalism, but also create a document that recipients will want to hold onto. Attractive photos of nature and animals are likely to be admired in their own right, encouraging supporters to keep your mailed materials and, subsequently, keep your organization in mind.
Telling emotional stories.

Conservation and environmental advocacy are already emotional topics for many people. Telling a compelling story about the future of our planet is an effective way to earn supporters. In contrast to online marketing, traditional mail appeals provide the space to tell long-form stories about your organization's work and supporters' impact on the environment.
Communicating donor impact.

While reaching new supporters is necessary for growing your organization, you should also take care to continue building relationships with your current supporters. Sending thank you letters that communicate the impact of individual donations can help solidify connections that might lead to more significant support in the future, like major donations or

planned gifts

.
Personalizing your outreach materials can help increase your traditional mail appeals' effectiveness. Consider starting with templates like these, then customizing each message based on information about your letters' recipients, such as previous engagement with your organization.
4. Partner with Corporations
Corporate philanthropy is often overlooked as a resource for nonprofits, whether they're looking for donations or support for their marketing campaigns. As 360MatchPro's guide to corporate philanthropy explains, corporate philanthropy comes in many forms, including making donations, providing resources or grant funding, and encouraging employees to volunteer.
However, successful corporate partnerships require extensive research beforehand to ensure the partnership will be mutually beneficial. When researching potential sponsors, be sure to check:
The corporation's philanthropic mission statement.

Many corporations have their own philanthropic agenda and are interested in partnering with nonprofits that share their vision. For example, your conservation organization is likely to have more luck with a corporation that's interested in supporting sustainability initiatives than one with a mission statement pledging their dedication to children's causes.
Any related history the corporation might have with your field.

Remember that your corporate partners aren't the only people you're sending a message to when you accept a sponsorship. Your supporters want to see your organization continually make strides in advocating for conservation efforts, and partnering with a corporation with a spotty history towards environmental protection may cause your support base to doubt your organization's integrity.
Other nonprofits sponsored by the corporation.

The fastest way to learn what kind of organizations potential corporate sponsors partner with is to research which nonprofits are currently receiving their support. If a corporation supports many conservation organizations, it's likely they may also be interested in sponsoring your organization. However, when appealing to these corporations, determine what sets your organization apart from their current partners, so you can show why you are a unique cause worth funding.
Earning corporate sponsorships is a multi-step process, and running a reputable organization is one of the first steps. Established organizations that have already launched several successful initiatives will likely have an easier time finding a corporate sponsor, but all wildlife conservation groups have the potential to partner with corporations as they grow.
Making connections with sponsors outside of your pitch meeting can also improve your chances of receiving support. Reach out to your board for potential connections, and invite potential sponsors to learn more about your organization by attending events and other informal gatherings.
Supporter outreach is a continuous process for all organizations. For wildlife conservation organizations, continuous support is vital for achieving long-term goals and sustainability. Use these tips to not only increase the number of new supporters you reach, but the impact of each connection by turning one-time advocates and donors into a reliable support base.