Increase Your Conversion Rate
Donation Forms That Maximize Giving
CharityEngine provides user-friendly donation forms that eliminate friction and help nonprofits raise more money. While the industry average conversion rate is a meager 17%, our clients enjoy rates as high as 26%.  
Why Our Forms Work Better
A Truly Frictionless Experience
Every aspect of our forms has been carefully thought out to ensure your donors have the best user experience. Creating a frictionless experience for your donors helps minimize form abandonment rates, ensuring more donors get through the checkout process.
One-Click Giving
With CharityEngine forms, donors enter their information once. The system recognizes a returning donor and their payment method, so there's no digging out credit cards or hunting for codes. 
Auto-Complete Address Fields
Because the CRM is integrated with the United States Postal Service, all a new donor must do is start typing their address. The system autofills the details. 
Mobile Friendly
Did you know that roughly a quarter of all donations are completed on mobile devices? Our forms are responsive and render perfectly on phone and tablet devices.
Make Giving Easy
Robust Payment Options & Digital Wallets
Did you know half of online payments are made using digital wallets? Let your donors give how they want—PayPal, Venmo, Google Pay, Apple Pay, ACH—as well as from where they want. Our nonprofit software accepts multi-currency transactions as well as payments from North and South America, Europe, Africa, Asia, and anywhere else your donors live and give.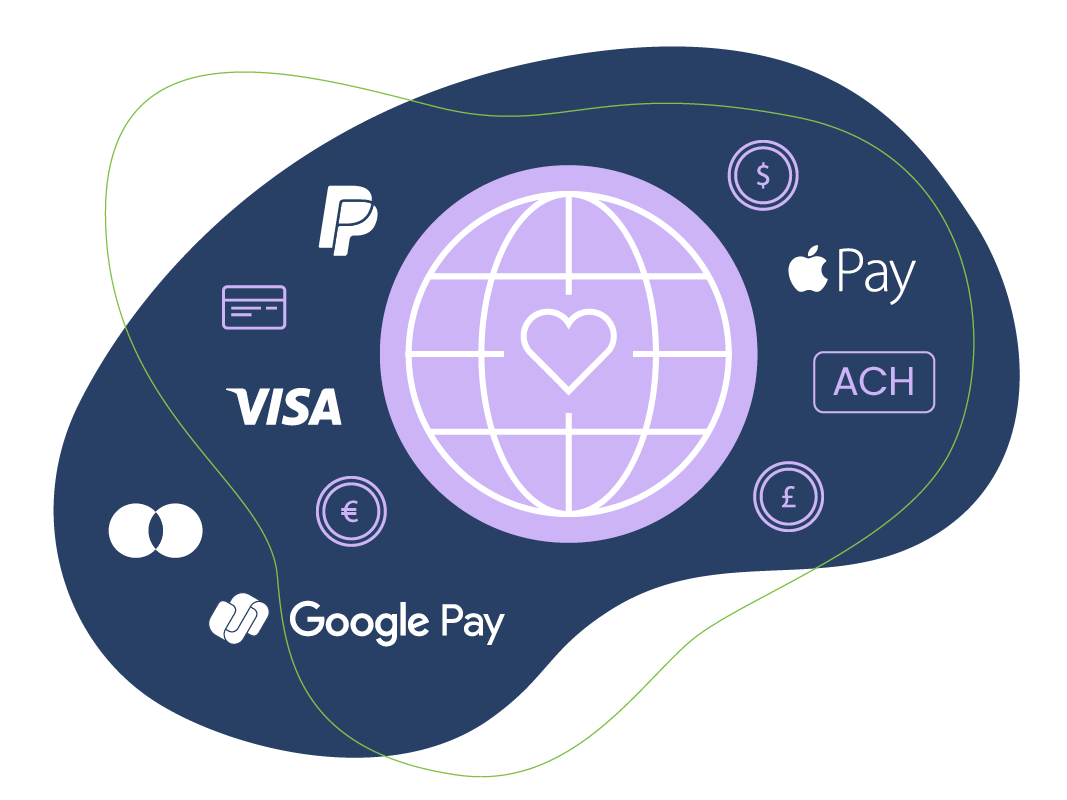 Safe and Secure
Craft Effective Online Donation Forms
With recurring donation options and multiple fund options, your donors will find it easy to support your cause. Our donation management system's advanced fraud protection and PCI-certified card storage keeps your donors' data safe. 
Customize Your Donation Forms
Customize online donation forms for personalized outreach. Advanced form field configuration with unlimited custom fields allows you to customize and copy donor email receipts, use your own domain name and SSL certificate, and configure your SEO title and metadata.
Smart Gift Options
AI-based automated suggestions help maximize gift amounts. Include a field for donors to opt into covering processing costs to put more dollars into your mission.
Embeddable or Landing Page
Easily create a donation landing page or embed your donation form right on your website. With embedded forms, donors have a one-click experience and don't leave your website to give. They can attribute their gift across multiple funds and easily check out with multiple different payment options.  
Keep Your Donor Information Safe
CharityEngine's patent-pending AI-based fraud protection uses proprietary technology to identify and block fraudulent transactions before they reach the payment processor, eliminating the need for cumbersome CVV codes and Captcha.  
Common Questions
How to Elevate Your Fundraising with Online Forms
Integrated, customized event and donation forms will give your donors clear paths to continued support!
What should be included in an online donation form?
Can I add matching gifts to my donation forms?
Do the online forms include thank-you pages?
Make Giving Easy
Customize Your Outreach For Effective Fundraising
Your donors are eager to support your mission, and your job is to make it easy for them to give. With personalized, customized form fields and the ability to prefill online forms with data stored in CharityEngine's donation management system, outreach is more effective and relationships are easier to build.